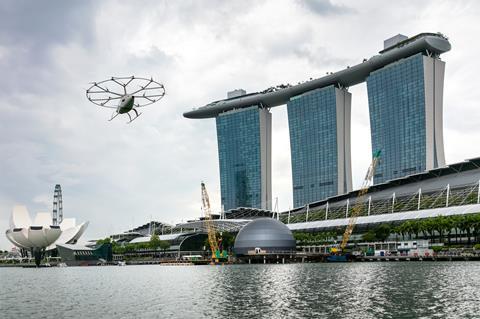 SINGAPORE: A test flight of a Volocopter air taxi took place in Singapore on October 22, during the Intelligent Transport Systems World Congress.
The manned flight of a 2X model over Marina Bay took 2 min to cover 1·5 km at an average cruising height of 40 m. The test was undertaken with the support of the Ministry of Transport, the Civil Aviation Authority of Singapore, and the Economic Development Board.
Aerial vehicle developer Volocopter had tested the aircraft in Germany before tests in local conditions at Seletar Airport in Singapore. The electric air taxi, which flies using technology based on drones, can take off and land vertically. It has capacity for two passengers.
'There are three major aspects that need to be in place for urban air mobility to become reality: the aircraft, the infrastructure, and the necessary regulation for both', said Volocopter CEO Florian Reuter. He added that air taxi operations are 'very feasible in the next two to five years'.
The test flight came the day after a prototype 'vertiport' station for air taxis was unveiled by Volocopter and Skyports. The VoloPort on the Float @ Marina Bay 'is an important step towards establishing an entire air taxi solution in Singapore', said Skyports Managing Director Duncan Walker. According to the companies, vertiports could be installed on rooftops, railway stations, car parks and other urban locations.
Skyports opened an office in Singapore last month, and Volocopter has operated a local office since January.