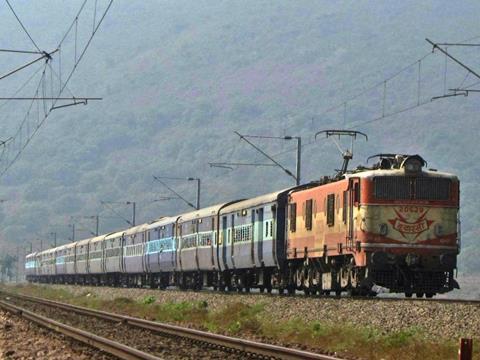 INDIA: Following cabinet approval on February 17, a Rs107bn railway investment stimulus programme covering the double and triple-tracking of several routes has been announced by the Ministry of Railways.

To be delivered through 'extra budgetary resource and institutional funding', the six schemes around the country are intended to increase capacity on constrained corridors for both passengers and freight. The projects are:
Doubling of the 190 km broad gauge line between Hubli and Chickajur within a budget of Rs13bn. The project is planned for completion by the end of 2020 and forms part of a bigger programme to provide a double-track alignment along the Pune – Miraj – Hubli - Bangalore corridor, which in turn is an important link for trains running between Mumbai, Bangalore and the port of Mangalore. Doubling between Bangalore and Tumkur and between Arsikere and Chickajur has already been completed, and work is in progress on the section between Hubli and Vasco-da-Gama.


Triple-tracking of the 132 km line between Wardha and Ballarshah in Maharashtra at an estimated cost of Rs14·4bn; work is expected to be finished by 2021.


The 160 km Ramna – Singrauli line, which runs from Madhya Pradesh into Uttar Pradesh, is to be double-tracked at a cost of Rs27bn by 2019-20. This project is designed to increase sectional capacity for freight and passenger traffic serving the Northern Coal Fields, power plants and associated industries in and around Anpara and Shaktinagar.


Doubling of the 261 km between Katni and Singrauli at a cost of Rs21bn has also been approved. Due for completion by 2021, this project is again being driven by coal traffic as well as the need to enhance capacity around the busy junction at Katni, which is on the main line between Allahabad and Mumbai.


Also in Madhya Pradesh, a third track is to be built along the 165 km section between Anuppur and Katni at a cost of Rs16bn for completion by 2021. This would alleviate a significant bottleneck caused by rapid growth in mining in the region, the ministry says.


Costed at Rs17bn, double-tracking is envisaged on the Rampur Dumra – Tal - Rajendrapul route in Bihar. Due to be completed by 2019-20, this project includes construction of a new bridge at Hathidah to replace a single-track road and rail structure which cannot be widened; this is the only bridge linking the northern and southern parts of the state, MoR says.
Subscribers to Railway Directory can access a map of the Indian main line network.