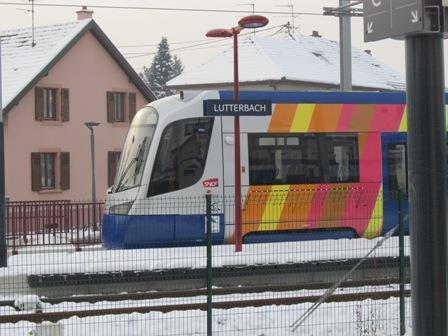 FRANCE: Tram-train services were inaugurated on a 22 km interurban route between Mulhouse and Thann on December 11, worked by 12 Siemens Avanto vehicles. A third tram route linking Mulhouse and Lutterbach started operation at the same time. Free rides were available between the city centre and Lutterbach during the weekend, while a special fare of €1 was charged from Lutterbach to Thann.

Tram route 3 and the tram-train services run along existing tram tracks from Mulhouse main railway station to Daguerre, serving seven stops. A 4 km section of track has been built to connect Daguerre and Lutterbach, with four new stops at Zu-Rhein, Dornach, Musées and Lutterbach Gare, where route 3 terminates.
The tram-train then switches to the heavy rail network and continues along the Thur valley to Thann-Saint-Jacques, serving seven stops at Graffenwald, Cernay and Thann. Maximum speed is 70 km/h between Mulhouse Gare and Lutterbach but rises to 100 km/h on the main line. Power is drawn at 750 V DC on the tram alignment and 25 kV 50Hz on the heavy rail line.

The 37 m long five-module Avantos have capacity for 231 passengers including 85 seated, and space for bicycles and skis. The vehicles were assembled by Lohr Industrie at Duppigheim under contract to Siemens.

Tram-trains will run to Thann every 30 min on Monday to Saturday and hourly on Sunday, interspersed with half-hourly trams so that stops between Mulhouse and Lutterbach are served every 15 min.

Local transport services in Mulhouse are organised by transport authority Mulhouse Alsace Agglomération (m2A) and run by Soléa while the Alsace regional government is responsible for services operated by SNCF. The project partners have agreed a common fare structure for public transport in the Mulhouse and Vallée de la Thur area, and launched a multimodal ticketing system branded 'Attitudes' covering all four zones.

The €150m project was financed by Alsace (€72m), m2A (€31m), the national government (€27m) and Haut-Rhin (€11m). The vehicles cost €52·9m while €84·4m was spent on infrastructure and €10m on the depot. RFF funded infrastructure works costing €8m while SNCF spent €1m on adapting its stations to accept low-floor tram-trains.