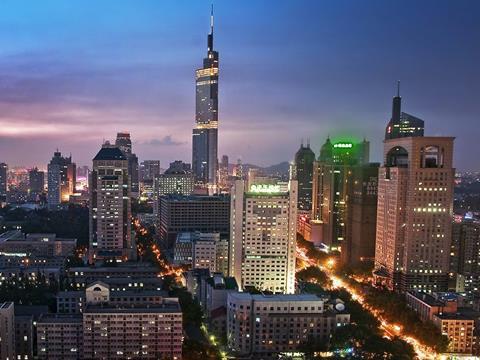 CHINA: Nanjing's 36·3 km suburban metro Line S3 opened on December 6. Previously known as metro Line 12 or the Ninghe Intercity line, S3 is designed for a maximum operating speed of 100 km/h.
Construction of the 16·3bn yuan project began in December 2012, and trial running began in August this year.
The eastern section of the east–west Line S3 runs 14·3 km in tunnel from Nanjing Nan railway station to Gaomiaolu with 10 underground stations. The line then surfaces to serve the ground-level Tianbao station before continuing west on a 21 km elevated alignment to Gaojiachong which includes eight stations. The line crosses the River Yangtze on a 1·6 km bridge which also carries the Beijing – Shanghai high speed line.
Nanjing Nan station offers interchange with main line rail services, the S1 airport line and metro lines 1 and 3. At Yougangqiao there is an interchange with metro line 2, and Pingliangdajie and Wuhouije offer interchanges with the city's tram services.
Line S3 is operated using 24 CRRC Nanjing Puzhen Rail Transport six-car Type B trainsets powered from 1·5 kV DC overhead electrification. Services on the eastern section between Nanjing Nan and Liucun operate from 6.00 to 23.00, with the western part of the route closing down at 22.00. The end to end journey time is 50 min.
A proposed western extension would take the line to 68 km.