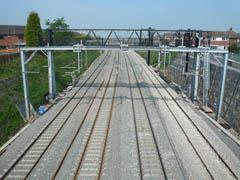 Modernisation of the 914 km railway between Malawi's commercial capital Blantyre and the port of Nacala in Mozambique to raise speeds from 20 km/h to 70 km/h would cost US$231m, according to a study financed by the European Union. Trains would take 38 h, compared with the current journey time of up to seven days.
A €317m project to modernise and expand Utrecht Centraal station was formally launched on January 24, with completion planned for 2015.
SCT Logistics opened the first phase of a A$30m rail freight terminal at Playford, South Australia, on January 25.
A $750000 grant from the High-Speed Intercity Passenger Rail Program has been awarded to the US state of Pennsylvania to study a proposed extension of Amtrak's Keystone Corridor from Harrisburg to Pittsburgh with dedicated electrified tracks.
Trenitalia and Veolia Transport launched their as-yet unnamed open access passenger joint venture in Roma on February 17. The two firms plan initially to launch overnight services between Venezia, Roma and Paris before introducing three return trips per day between Lyon and Torino from 2012.
Under a review of all state contracts of $1m or more, Florida Governor Rick Scott has suspended the $1·2bn SunRail commuter rail project, freezing $235m in contracts due to be awarded for MotivePower locomotives ($17m), Bombardier coaches ($39m) and infrastructure works ($168m). The initial 50 km, 12-station section between Volusia, Orlando and Sand Lake Road had been scheduled to open in 2013.
On January 28 Mineral Enterprises opened a privately-funded 10·5 km link between its iron ore mine at Bhimasamudra and the Indian Railways network at Amritapur.
Mumbai Metropolitan Regional Development Authority is seeking bids for a BOT contract to provide a 1·3 km freight and passenger funicular between Dudhani and Matheran. The journey would take 15 min rather than 2 h on the existing 20 km narrow-gauge hill railway.
BC Iron began shipping ore over Fortescue Metals Group's railway in Western Australia during January. The Nullagine Iron Ore JV is described by FMG as the first time a junior miner has been able to transport ore over a third party's Pilbara rail infrastructure.