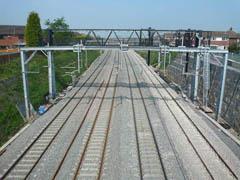 UK: Two financially-viable main line schemes plus strategic infills offering the best value for money would initiate the rolling programme of electrification set out in a draft strategy published for consultation by Network Rail on May 15.
For its core strategy, the infrastructure manager proposes electrification of around 4800 route-km, covering the Great Western Main Line from Maidenhead to Oxford, Bristol and Swansea, the Midland Main Line from Bedford to Corby, Derby, Nottingham and Sheffield, and routes in north London which would enable freight to be electrically hauled. Edinburgh - Glasgow via Falkirk High is the initial proposal for Scotland, and the strategy lists 25 potential freight infill schemes.
The costs of electrifying the GWML and MML would be offset by whole-life savings in train operation. Detailed appraisals show other routes where electrification 'potentially' offers high value for money as part of a rolling programme, starting with Cross-country and North cross-Pennine lines. The programme would be staged so that each scheme benefits from previous routes, boosting the benefit:cost ratio of later projects when compared to treating them in isolation.
While the strategy is intended to provide an 'input into the strategic decisions made by the industry's funders', NR recommends that schemes in the core strategy are developed further. If the business cases are robust, a funding mechanism will be sought.
Electrification fell out of favour following privatisation, and NR warns that 'consideration [will] need to be given to flows of funds' as it will bear the upfront costs, while 'most of the benefits are long-term in nature and will be to the train operators, freight operators and governments'.