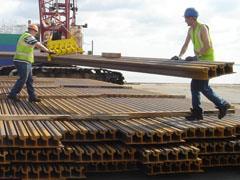 SPAIN: The latest package of contracts to be let by ADIF for the high speed line connecting Madrid with Valencia, Alacant and Murcia includes installation of electrification equipment on the 167 km between Albacete and Alacant, awarded to a joint venture of Balfour Beatty Rail Ibérica, Cobra and SEMI for €566m. Alstom, Electrén and CYMI are to install and maintain 2 x 25 kV traction substations at Campanario, Sax and Montesa under a separate contract worth €479m.
Maintenance on the Torrejón de Velasco - Gabaldón section of the Madrid - Valencia route is to be undertaken by Acciona Infraestructuras, Coalvi and Iberovías under a contract worth €169m, with the Gabaldón - Valencia/Albacete section awarded to Cosfesa, Copasa and Nopal for €174m.
Vías y Construcciones has been awarded a €168m contract to undertake tracklaying on the new 1668 mm gauge route between Villar de Chinchilla and Almansa (36 km), where the existing alignment is to become part of the high speed route. From a base at Monforte del Cid, materials for tracklaying on the 90 km of high speed infrastructure between Almansa and Alacant are to be moved by DB Schenker, Tracción Rail and Transfesa under a €10m contract.