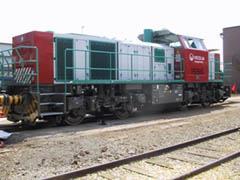 FRANCE: A lobby group to represent new entrants in the French rail sector was formally launched on March 18. Association Française du Rail is intended to bring together 'all the actors who believe that the French railway sector will not achieve its full and sound development without an open competitive framework and good regulation.'
As well as representing and promoting its members, AFRA sees its role as defending the interests of players in both the passenger and freight sectors - not just train operators but also rolling stock leasing companies, intermodal operators and shippers. The organisation says it will continue to work closely with the Union of Public & Railway Transport (UTP), particularly on social and employment issues.
Alain Thauvette, Managing Director of DB Schenker subsidiary Euro Cargo Rail, has been elected as the first President of AFRA, with Antoine Hurel, head of Veolia Cargo, as Vice-President. Whilst these two operators have taken the initiative, they are expected to be joined shortly by Colas Rail and the EuRailCo subsidiary of Transdev and RATP Développement.