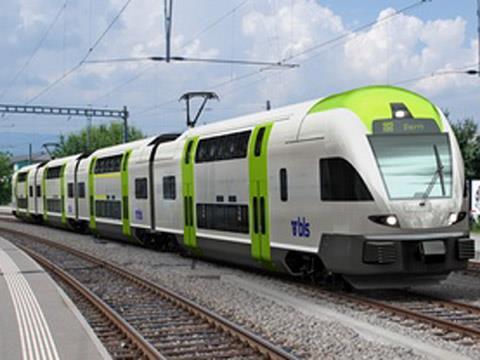 SWITZERLAND: BLS has placed its largest ever rolling stock order, awarding Stadler Rail a SFr493·7m contract to supply 28 four-car double-deck electric multiple-units to increase capacity on Bern S-Bahn services.
The 160 km/h units will be delivered from Stadler's Bussnang plant between autumn 2012 and the end of 2014. They will enter service on route S1 from Fribourg to Bern and Thun during 2013, and the following year will be introduced on S3 from Biel to Bern and Belp, and S6 from Schwarzenburg to Bern.
The Bern S-Bahn network is seeing rapid growth, with passenger-km up 44% in five years and predicted to increase by a further 60% by 2025. The new trains will offer 274 standard and 62 first class seats, plus space for 110 standing passengers at 3/m2. Working in pairs, the 15 kV EMUs will provide a 30% increase in capacity within the maximum length imposed by the platforms. There will be space for three wheelchairs, and one of the two toilets will be fully accessible.
The order is being financed jointly by the Federal Office of Transport and the cantons of Bern and Freiburg.
The order is part of a procurement strategy which will see BLS reduce the diversity of its fleet from 125 trainsets of seven types at present to 141 of four types. An order for 54 single-deck units is planned for 2019, bringing the total investment in rolling stock to SFr1·2bn by 2025.