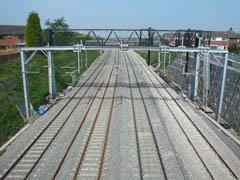 UK: The report on options for providing additional rail capacity between London and the West Midlands and proposals for a high-speed rail network was delivered to the Department for Transport on December 31.
It has been developed by High Speed Two Ltd, the company set up in January last year to advise the government on options for high speed lines.
Transport Secretary Lord Adonis had in fact announced receipt of the HS2 Ltd report on December 30, predicting that 2010 will be 'the year of high-speed rail in the UK'.
'This is an important report which will shape the future of high speed rail in this country', he said. 'Scrutiny of the report will begin immediately and we will announce how we plan to take high-speed rail forward by the end of March'.
Assuming a decision is taken to progress the proposals, the government would publish a white paper by the end of March, setting out detailed plans for high-speed lines and services, including route proposals, timescales and associated financial, economic, and environmental assessments. Full public consultation would start in the autumn of 2010, 'giving all interested parties an opportunity to comment before the proposals are finalised'.
To emphasise cross-party political support for high-speed rail, Adonis and his Conservative shadow Theresa Villiers appeared together on BBC Radio 4's lunchtime news programme on December 30. In other media appearances Adonis sought to emphasise the need for affordable fares. He told the BBC 'I want Britain to be a pioneer in low-cost, mass-market high-speed rail', adding that he wanted a railway which 'made it easier for all people - not just the better-off - to get round the country'.