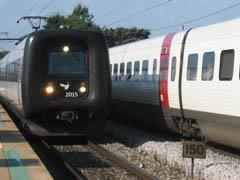 DENMARK: September 22 saw the start of a public enquiry into plans by the national rail authority Trafikstyrelsen into ways of expanding capacity on the country's busiest line between København and Ringsted.
The project was launched in 1998, when the former rail infrastructure authority Banstyrelsen recognised that the existing main line through through Høje Tåstrup and Roskilde would soon reach its limits (RG 2.98 p72). Pressure on the route has been aggravated by the opening of the Storebælt and Øresund fixed links.
After considering a number of alternatives, the government selected two options for further evaluation in March 2007. Adding a fifth track on the existing line to Høje Tåstrup, remodelling at Roskilde and four-tracking between Adamshøj and Ringsted would cost DKr5bn. But this would only accommodate four or five extra trains per hour, and the extra capacity would be used up by 2017. The alternative is to build a 64 km double-track line from Ny Ellebjerg to Kværkby alongside the Holbæk motorway and then parallelling the existing line into Ringsted. This would cost DKr9bn, but could accommodate up to 13 trains/h.
The new route would intersect with the existing Roskilde – Køge line at Køge Nord, where a new intermodal terminal could be developed, served by both the new line and the motorway. An urban development zone at the same location could also be served by a short diversion of the coastal S-bane Line A.
The public enquiry is due to be completed by December 1, and the government is expected to make a formal decision between the two options during the second half of 2009.