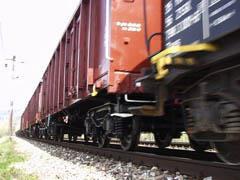 EUROPE: French logistics group Gefco announced on March 24 that it has launched a dedicated container train to carry automotive components between France and Russia. Running five days per week, the service is being operated on behalf of PSA Peugeot Citroën, which has opened a new assembly plant at Kaluga, 100 km southwest of Moscow, in conjunction with Mitsubishi.
The train began running on March 5, following 18 months of development and negotiations over operational, technical and customs requirements. To operate the 6 000 km route, Gefco has assembled a fleet of 400 wagons and 1 200 high-cube 40 ft containers.
Trains are collected from the Peugeot plant at Vesoul by SNCF Geodis subsidiary Naviland Cargo, and hauled to Germany by Fret SNCF. Captrain Deutchland is responsible for the next leg via Frankfurt-an-der-Oder and through Poland to Brest on the border with Belarus, where the containers are transferred to a 1 520 mm gauge train operated by TransContainer.
End-to-end journey time is around six days, compared to eight days each way by road. As each train carries 36 containers, Gefco estimates that the rail service has effectively removed 576 lorries from Europe's roads at any given time.
At present the containers mostly return empty, although around 30% of the available capacity is required to bring the re-useable packaging materials back to France. Gefco is reported to be looking for a backhaul customer to make better use of its equipment. However, the company emphasises that this must be done without disrupting the just-in-time flow of components.