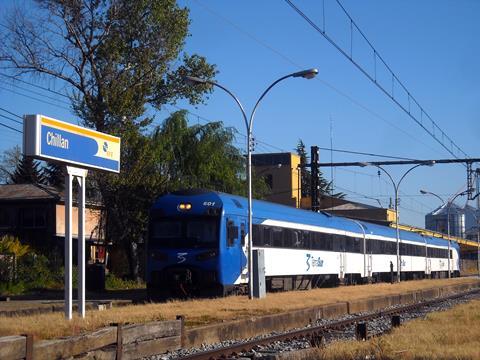 CHILE: Empresa de los Ferrocarriles del Estado has called tenders for a fleet of passenger trains to replace the rolling stock currently used on its long-distance Santiago – Chillán service. The requirement is for six bi-mode trainsets of four or five cars with capacity for at least 250 passengers.
EFE says that the 1 676 mm gauge trains would primarily operate in electric at 3 kV DC but will have diesel engines so that they can continue to run should the power supply fail. Maximum speed will be 160 km/h.
The specification calls for the trains to have facilities for passengers with reduced mobility, USB ports, wi-fi, CCTV, air-conditioning and reclining seats.
Acquisition of the new fleet is part of a US$115m programme to enhance the Santiago – Chillán service that includes upgrading of the 398 km route with automation of 74 level crossings. Plans envisage express trains offering a trip time of 3 h 40 min with only three intermediate calls and a second tier of service taking 4 h with trains calling at 10 stations. There would be up to 12 departures a day in each direction.
EFE says that the current service taking around 4 h 30 min carries around 230 000 passengers a year. It hopes that the new trains coupled with other improvements will drive traffic up to around 800 000 passengers a year.
EFE President Pedro Pablo Errázuriz said that the new trains and upgraded infrastructure would provide 'a model of high quality service' with the trains being 'the most modern in South America'.
The call for tenders follows the announcement by Chilean President Sebastian Piñera of an ambitious US$5bn 'Chile On Rails' strategy that includes 25 investment projects covering 1 000 km of railway.