FRANCE: Nascent open access operator Railcoop lodged a formal application with the Autorité de Régulation des Transports on June 9 to launch a Bordeaux – Lyon inter-city service using the conventional route via Périgueux and Montluçon.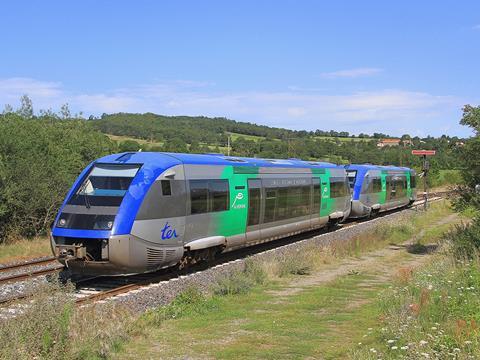 According to Railcoop President Dominique Guerrée, the deposition of the service application with the regulatory body marks a 'first test' for Railcoop, a not-for-profit co-operative established in November 2019 as a 'community interest group' or SCIC (Société Coopérative d'Intérêt Collectif) under French law. Railcoop says it already has a membership totalling in excess of 3 000 companies or individuals.
The organisation hopes to use the forthcoming liberalisation of the domestic passenger rail market to launch a series of new passenger services, initially using open access provisions. These would include day and overnight inter-city and inter-regional trains, as well as local services in the future. It also intends to launch a freight operation.
Railcoop says that there is a clear market for the reinstatement of conventional services that had been neglected by SNCF in recent years; it believes the Lyon – Bordeaux route will be an important proof of concept. SNCF withdrew its direct trains between France's second and fifth largest cities in 2014, since when passengers have had to travel via Paris.
The co-operative reports that its business case for reinstating the service has been validated by Systra, noting that the consultancy's shareholders are SNCF and RATP. It proposes to operate an initial three trains per day in each direction, making nine intermediate calls and offering an end-to-end a journey time of 6 h 47 min. Company secretary Quentin Neurohr acknowledges that this would be slower for Lyon – Bordeaux journeys than taking TGVs via Paris, but says that Railcoop's proposal reflects 'a true demand for comfortable, reliable and affordable direct trains' where speed is not the sole priority for users. The direct trains would also be able to serve intermediate markets.
Railcoop says that the recent commitment from the government to limit the use of domestic flights should also help its business case. The SCIC is expecting to receive its safety case and operating licence in April 2021, before entering the freight market the following month. It envisages that the Lyon – Bordeaux passenger service could begin running in 'mid-2022'.