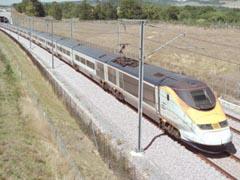 EUROPE: The Eurostar board announced on December 21 that it had commissioned an independent review of the train failures which brought its cross-Channel rail services to a halt on the night of December 18-19.
Responding to a demand by French transport minister Dominique Bussereau, Eurostar said the review would be conducted by former GNER Managing Director Chris Garnett and Inspecteur Général des Ponts et Chaussées Claude Gressier.
Eurostar services were severely disrupted on the night of December 18 as a result of severe weather conditions in northern France, which caused a number of trains from Paris and Brussels to fail inside the Channel Tunnel. Two trainloads of passengers were detrained into the service tunnel and subsequently evacuated using a Eurotunnel car shuttle. According to a Eurotunnel spokesman, this was the first occasion on which a Eurostar in commercial service had been evacuated inside the tunnel.
Other Eurostars were hauled out of the tunnel using Eurotunnel's diesel service locomotives, including one set which was hauled by the diesels to London St Pancras. Services were suspended on December 19-21 pending technical investigations.
Initial studies found that the trains had been disabled by a build-up of snow and ice in the rear power car, which melted as the trains entered the warmer atmosphere inside the tunnel. This caused electrical failures, disabling both the traction equipment and the auxiliary train power. Although the Eurostar power cars are equipped each winter with baffles to protect the air intakes, these proved inadequate and a modified design is now being tested.