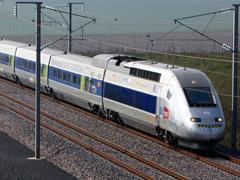 FRANCE: Staff on the iDTGV services which SNCF launched in December 2004 to compete with budget airlines are now using Motorola MC70 enterprise digital assistants to check tickets.
Motorola had supplied 300 of the devices by the end of 2008, and they are being used to scan 2D barcodes on tickets which passengers print themselves after booking online (RG 3.05 p141). As well as verifying the validity of the ticket, the data collected provides information such as the passenger's date of birth and travel preferences, enabling services like seat changes to be personalised.
'Low-cost air operators have changed the landscape for middle-distance travel', said iDTGV Director General Maria Harti. 'iDTGV is committed to offering a service level that positions us competitively with all forms of transport. That includes ticket security as well as customer engagement, which means empowering our staff to answer customer questions on the spot. It was therefore essential that we put technology in place that would allow us to provide this level of service, while also being easy for our employees to use, robust enough to withstand being used out on the platforms, and also cost-effective.'
Giesecke & Devrient has produced a contactless smart card ticket designed to be attached to a key ring or mobile phone by a ribbon. Robust and wear-resistant cards can be produced in any shape for marketing purposes, including circles and hearts.