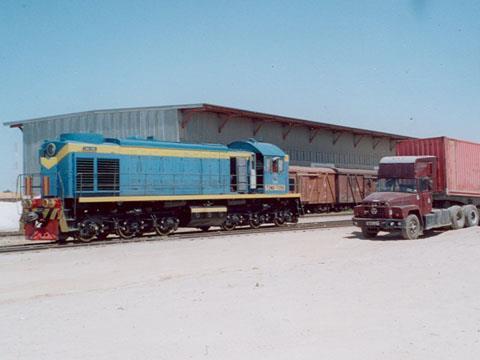 AFGHANISTAN: A ceremony on January 22 marked the start of construction of a 75 km rail link from Uzbekistan to the city of Mazar-i-Sharif in northern Afghanistan. The line is being built by Uzbek national railway UTY, which said it will be 'a vivid testimony to the friendly relations between the two countries.'
Starting from the rail-served Hayratan freight terminal on the Afghan bank of the Amu Darya river, the 1 520 mm gauge single track line will run through relatively easy terrain to the outskirts of Mazar-i-Sharif. Completion is planned for June 2011.
There have been a number of proposals for such a line over the years. In September 2009 the Asian Development Bank announced it would meet US$165m of the US$170m cost of the project, leaving the Afghan government to fund the final US$5m.
In an exception to usual procurement rules the US$129m construction contract was awarded to UTY in November without tendering, because UTY has the necessary experience and preliminary designs, and it was thought unlikely that other suitable bids would be received. SMEC and Islohotkonstaltservis have a US$3·9m contract for design review and construction supervision.
UTY said the project is unique in that construction has begun while design work is still underway. Afghans will be trained to undertake the future repair and maintenance of the line.
The railway is expected to have a significant economic impact, as almost half of Afghanistan's imports pass through Hayratan. In the longer term it could form part of a planned trans-Afghan corridor, in conjunction with proposals for a railway from Mazar-i-Sharif to Herat, future terminus of a standard gauge railway currently under construction from Iran.
A Pakistan Railways study into extending its Chaman line by around 100 km to Kandahar has been sent to the Afghan government for review.