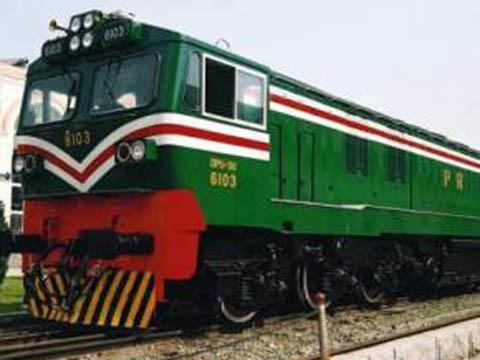 PAKISTAN: With growing interest in the development of Trans-Asian rail links, one might think that Pakistan Railways has a promising future. But an SOS reaches us from railway headquarters in Lahore warning that PR is on the verge of collapse, following years of 'seething indifference' by governments of all parties.
It is a sorry tale. With less than half of its locomotives in working order, PR has been forced to suspend operations on several routes. Minister of State for Railways Afzal Sindal told parliament that 16 lines totalling 1498 km had been closed, whilst lack of maintenance meant almost half of the 7791 km network was not fit for use.
Meanwhile, PR's debts are spiralling out of control. According to Federal Minister of Railways Haji Gulam Ahmed Bilour, the railway is losing Rs9bn a year, caused in part by a pensions bill of Rs6·7bn and growing interest payments. PR owes Rs40bn to the State Bank of Pakistan and must repay an Rs21bn loan from China.
Ironically, this was negotiated to fund the import of 75 locomotives, although 32 of the 69 put into service since 2001 have already been scrapped. This includes 20 of the 3000 hp units supplied in 2005, of which at least nine were withdrawn with cracked frames and others with engine defects. As a result, an agreement to buy a further 75 has been torn up and PR has called tenders for 150 US-built diesel locos.
Meanwhile, the 25 kV electrification between Khanewal and Lahore is out of service after the overhead wiring was stolen; the electric locos were sold for scrap in a deal that is currently being investigated for corruption.
With fewer trains, PR General Manager Ashfaq Khatak points out that the railway cannot earn enough revenue to cover its costs. He says PR is operating 220 passenger and 40 freight trains a day. But another 20 were cut last month as result of the motive power crisis. Little wonder that PR's market share has plummeted from 75% to less than 5%, despite initiatives such as a new dry port at Multan and a recent contract to move aid for the World Food Programme.
Bilour is campaigning for adequate funding, noting that 'the tragedy of the railway has been that for so long there has been no investment'. He wanted Rs29bn to improve the network, and was promised Rs14bn, but says the funds 'have yet to be released'.
In many ways, PR's problem would seem to be too much government interference rather than too little. The Ministry of Railways micromanages policy and finances. There have been proposals for reform every year, as well as constant management changes as senior officials are shuffled back and forth between PR and the ministry.
The World Bank has promised US$25m to support investment and restructuring. What PR needs is a write-off of debt, reduction of its 78750-strong workforce, modernisation of the core routes, and a competent management team given freedom to run the railway as a business. Bilour insists that 'everyone must respect this precious national asset'. Now he needs to put a realistic rescue plan in place, quickly.