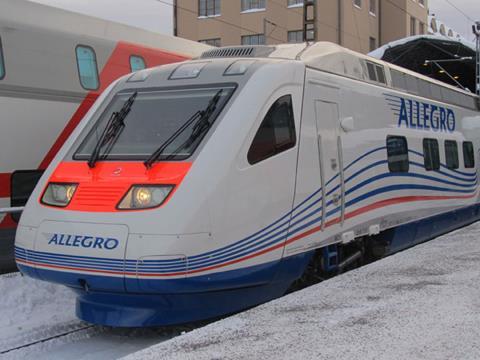 INTERNATIONAL: Russian Railways' Federal Passenger Company subsidiary is to operate a trial international passenger service from Petrozavodsk in the Republic of Karelia to Joensuu in Finland on December 28-29.
The overnight service will operate via Sortavala and cross the border at Värtsilä. It is expected to comprise six coaches and one sleeping car; Russian and Finnish officials will join celebrations at both ends of the route 'to mark the maiden voyage', RZD says.
Further trains may operate if there is sufficient demand; RZD expects that this may come from travel agencies wishing to run charter services. Introduction of regular timetabled passenger trains is not envisaged before 2015, and this would require the establishment of formal border and immigration control facilities en route.
Cross-border services between Russia and Finland were substantially improved in December 2010 with the launch of Allegro tilting trains between Helsinki and St Petersburg. Under a co-operation agreement signed in Petrozavodsk on September 25, RZD, Finnish national railway VR Group and local authorities in both countries are now examining other potential passenger routes, including Petrozavodsk – Oulu and St Petersburg – Imatra.