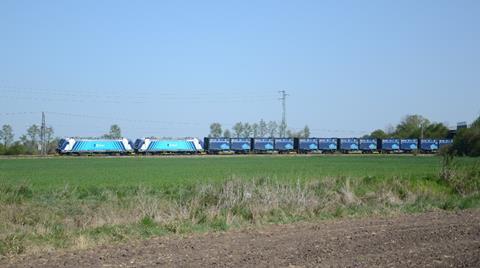 CZECH REPUBLIC: The first two Class 388 Traxx MS3 multi-system electric locos for ČD Cargo started electromagnetic compatibility testing at the VUZ Velim test centre on April 21, as part of the formal approval process
ČD Cargo ordered 10 Traxx MS3 locomotives from Bombardier in August 2019, with an option for a further 40 locos to be supplied by 2022. They are fitted with GSM-R and ETCS Baseline 3 onboard equipment, as well as the PZB/LZB, Mirel and SHP train protection systems, enabling them to operate in the Czech Republic, Solvakia, Hungary, Poland, Austria and Germany. There is also an option for additional authorisation covering Slovenia and Croatia.
The Class 388 is the first type of modern rolling stock that must comply fully with stricter Czech standards on potential interference with signalling equipment and track circuits. The two locomotives were therefore delivered to Velim from their home depot at Ústí nad Labem on April 14 for EMC testing.
Trials were conducted with both locomotives operating in multiple, hauling a rake of ČDC Type Sggmrrs InnoWaggons loaded with Montainers XXL containers, which are normally used to transport coal to the Chvaletice power plant. The locos are expected to undertake around 600 km of test running at Velim before being handed over ČD Cargo at the end of April.