GERMANY: European proposals to give freight trains priority on international corridors have provoked a fierce reaction from Berlin. Murray Hughes reports.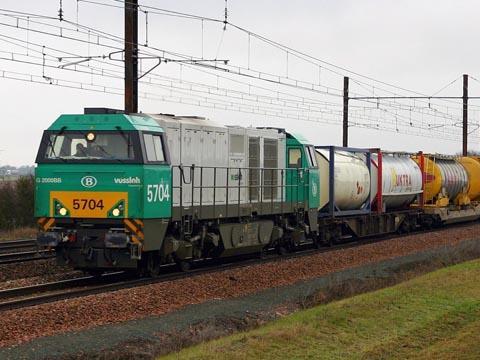 Attentive readers may recall the raising of an editorial eyebrow in our report on the 'Freight without Frontiers' conference in Paris on October 29 last year. We remarked that there was no speaker from Deutsche Bahn which, being Europe's largest player in the rail freight business, suggested to us that all was not well among Europe's rail freight policy makers. And so it turns out.
The likely explanation for this omission has since become clear. Rightly or wrongly, DB has decided that it does not want, or does not need, regulations that require priority to be given to freight trains. Indeed, it is campaigning fiercely against the proposal, firing off a salvo on January 12 in the form of a strongly-worded letter to German politicians from Dr Otto Wiesheu, DB's Board Member for Economics & Political Affairs.
The trigger for DB's missive was the European Commission's publication on December 11 of A European Rail Network for Competitive Freight, a proposal for regulations that would include binding requirements on infrastructure managers to reserve capacity for freight trains on specified corridors and to ensure that freight on these routes had priority over passenger trains in the event of disruption. We understand that the rules would apply on corridors where freight traffic exceeded 80 billion tonne-km a year.
DB has no quarrel with the EU's objectives but notes in a position paper that the Commission's approach is 'fundamentally inappropriate' and that its 'proposals do not strengthen rail freight but actually weaken the entire rail sector'. While DB supports the corridor-based development of rail freight, it argues that the Commission fails to take into account the different characteristics of individual networks, noting that 'in Germany only a small proportion of freight traffic travels long distances on corridors', which in practice form an integral part of its network. Corridor-based rules, it says, 'would have substantial feedback effects on the entire network, and in particular on passenger traffic'.
Johann Metzner, spokesman for European Affairs at DB's Berlin headquarters, argues that DB has a mix of traffic on most of its network. Even the Rhein corridor, where two double-track routes parallel the river and a high speed line links Köln with the Frankfurt region, falls into this category, he says. Of major concern to DB is the effect that giving priority to freight would have on regular-interval passenger timetables, as 'adjustments of just a few minutes can cause entire regular-interval passenger train systems to collapse', according to the position paper.
DB also draws attention to European rules which require railways to compensate passengers for delayed services, something that would sit unhappily alongside regulations requiring passenger trains to be held while freight trains take precedence on routes where tracks are shared.
The flexibility of the dispatching function would be under threat too, notes Metzner. 'The dispatcher needs flexibility to deal with problems', and during periods of disruption, the dispatcher's aim is to restore the timetable as quickly as possible. Were dispatchers obliged to give priority to freight trains, their discretionary powers would be compromised. 'Legislation would be detrimental to 170 years of development of the business, and at some point it will wreck the system', Metzner remarks, adding that the bodies set up to manage traffic in the corridors would inevitably come into conflict with DB's seven traffic management centres.
The proposals envisage that infrastructure managers in a given corridor 'would be obliged to reserve capacity for freight traffic prior to defining the annual working timetable', DB says, and this capacity would be determined 'on the basis of market studies and in consultation with the potential users of the corridors'. DB suggests that this would be quite impractical, while it would also limit the scope for requesting paths at short notice and 'entail a severe risk that it would not be possible to make optimum use of the already scarce infrastructure capacity'.
As if all this were not enough, DB contends that the proposed regulations would contravene the subsidiarity principle, being 'inadmissible intervention in the responsibility of the member states'. It appears that member states would submit proposals for corridors to the Commission, which would appoint a committee drawn from member states to recommend a corridor on the basis of a qualified majority. 'A member state could therefore be over-ruled by a committee from other member states', says Metzner.
Quite what all this means for Europe's rail freight business is not yet clear. What is certain, though, is that attempts to lobby for a European freight priority network are now seriously hobbled. Metzner says that the German government supports DB's point of view, and that the CER agrees that the proposed capacity reservation rules are not satisfactory. On the other hand, the European Rail Freight Association has welcomed the Commission's proposals, noting that the plans 'will provide for a longer planning and financing perspective for the infrastructure managers coupled with quality and performance-related results for which the entire rail freight sector is striving.'
In reality, road haulage remains a constant threat to the viability of rail freight, and there is still a prospect of high-capacity lorries making it even more difficult for rail to compete. While the European Commission has rejected calls for 25 m lorries weighing up to 60 tonnes to be allowed general access to the road network, it has left open the option of bilateral agreements on selected corridors, threatening parallel rail freight services as hauliers leap ahead in the productivity stakes. The answer may well be corridor management in some form, possibly in market-driven commercial ventures. For the moment, however, the attempt to bring about priority for freight trains through legislation, at least as currently proposed, looks unlikely to succeed without significant amendments.