INDUSTRY: After a complex realignment of electrical suppliers across Europe, Traktionssysteme Austria has emerged as an independent manufacturer dedicated to the development and supply of traction motors. Dr Harry Hondius reports from Wiener Neudorf.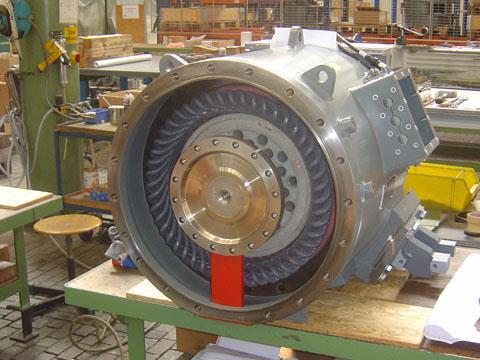 Despite all the changes that have reshaped the European rolling stock sector over the past two decades, Austria remains a major production centre, with two of the three main suppliers having plants in the country. There are several specialist manufacturers, and one of the most interesting developments in recent years has been the emergence of Traktions­systeme Austria as the leading independent manufacturer of traction motors. TSA is currently supplying around 2 500 motors a year, with 140 staff and a turnover in 2008 of €52m.
TSA has a complex history, closely linked to the evolution of what is now Bombardier Transportation. Its Wiener Neudorf plant was originally established by Brown Boveri in 1960, but when ASEA and BBC merged in 1988 to form ABB, the combined business inherited three main plants across Europe manufacturing traction motors: Västerås in Sweden (ASEA), Wiener Neudorf and Vittuone in Italy (TIBB). The subsequent merge r in 1996 of AEG-Westinghouse and ABB Transportation into Adtranz added yet another traction motor factory, at Hennigsdorf near Berlin, which in turn was inherited by Bombardier when it acquired Adtranz from Daimler-Benz in 2001.
Under the Adtranz regime in 1996-2000, Hennigs­dorf became the company's dominant player, although Wiener Neudorf continued to supply motors for DB's ET423 EMUs and Class 101 electric locomotives. However, it was not allowed to seek work from third parties, and had no long-term future. ABB Verkehrs­systeme Österreich was faced with closing the plant or selling it.
In 2000 the local management at Wiener Neudorf established Trasys Beteiligung & Management GmbH, which acquired the plant from ABB through a structured buy-out. The Austrian government provided some guarantees, and the firm inherited an order book with about 18 months' work. But Traktionssysteme Austria, as it became, did not acquire any rights to use existing motor designs. And despite having 40 years' experience, the engineering staff and sales force were not really equipped to work with outside customers.
Partnership with Stadler
But luck was on TSA's side. Stadler and Adtranz had been working together on the GTW project, with Stadler selling vehicles in Switzerland and Adtranz marketing them to the rest of the world. Synchronous alternators and AC traction motors for the diesel and electric railcars were made at Wiener Neudorf. But after Bombardier acquired Adtranz, it wanted to promote its NINA regional multiple-units, developed at Villeneuve and Aachen, and ended the agreement with Stadler.
The Swiss firm had contracts to deliver 75 GTWs to SBB Thurbo and 13 to Regionalverkehr Mittelland, for which it needed traction equipment. Stadler turned to TSA for the motors and generators and to ABB for the inverters (RG 4.08 p254). By recruiting a few former BBC engineers, TSA was able to meet the challenge in supplying its own design of asynchronous alternators and motors for 166 out of 437 GTWs.
This led to a lasting relationship with Stadler, through which TSA has been supplying motors for all 614 Flirt EMUs ordered to date, plus 119 gearless Variobahn trams, a few Tango cars and most recently 50 new double-deck S-Bahn EMUs for SBB.
Further expansion came in 2002, when Trasys Holding acquired the Elin traction motor business. Once again, this was the result of developments at Bombardier. BWS had devel­oped the Cityrunner low-floor tram family for Linz and Lodz, in conjunction with Elin EBG Traction GmbH, and Bombardier acquired a 24·6% stake in Elin EBG Traction. But following the merger with Adtranz it was forced to sell its stake to meet an EU competition ruling. In 2001 Bombardier sold its shares in Elin to majority owner Voestalpine Tech, which in turn sold the business on to Siemens in 2004. Meanwhile, in 2002 VA Tech had agreed to divest Elin's electric motor business to Trasys.
With its plant in Weiz, Elin EBG Motoren GmbH is primarily a builder of electric motors and generators for industrial applications. Trasys deci­ded to stop making traction motors at Weitz, and transferred the rail business to Wiener Neudorf. Elin is still around twice the size of TSA, with 325 employees and a turnover of €93m in 2008. The Trasys management team consists of five people, of which two represent TSA and two are from Elin.
Traction motor market
There are no statistics showing the numbers of traction motors supplied in Europe, but based on known orders it is possible to make a reasonable estimate. Alstom meets most of its traction motor requirements from its own plant in Ornans, and Siemens does the same from Nürnberg. During the period when Alstom owned Kiepe Elektrik, GT8N, K4000, Saarbrücken and Croydon trams were fitted with Alstom motors, as were the A32 Swift LRVs built by Bombardier and the Kinki Sharyo LRVs for New Jersey.
Bombardier now produces traction motors in Hennigsdorf and Changchun, and motors using Bombardier designs are built to order by ABB Västerås, by ABB Industria (for the FS Class 464 electric locos), by TSA and by Škoda Electric in Plzen. Some of Bombardier's Swift LRVs are fitted with Škoda motors as part of the Vossloh Kiepe traction package. The ALP 46 electric locos for NJ Transit, Chinese Railways' Class SS8 and VR's SR2 locos supplied by Bombardier all had motors from Wiener Neudorf.
ABB Industria has recently started to deliver back-to-back motors for CAF-built trams. VEM in Dresden also supplies traction motors for Bombardier trams and Talent EMUs, and vehicles built by PESA in Poland. Traction motors are no longer manufactured in the UK, Norway, the Netherlands, Belgium or Spain.
Still growing
Whilst TSA's main activities are still concentrated at Wiener Neudorf, which is responsible for all assembly and testing, a subsidiary plant to manufacture stator components has been established at Tuzla in Bosnia-Herzegovina. TSA also supplies gearboxes, but at present only for the Wien U-Bahn Type V metro cars.
In India the company is developing its relationship with DLW Varanasi and Chitteranjan Loco Works, and it is planning a joint venture with Medha Servo Drives which supplies inverters to IR. The idea is to develop motors for the modernisation of IR's large fleet of DC-motored diesel locomotives.
In terms of its product range, TSA builds its own design of alternators and AC motors, plus the special gearless asynchronous motors for Stadler-built Variobahn trams. It also builds a variety of Bombardier-designed motors for that company, notably the water-cooled 4WXA motors for the Rhein-Neckar Variobahn cars, motors for trams built by Alstom Salzgitter with Bombardier electrical equipment and the Hermelijnen low-floor cars for De Lijn in Belgium. TSA also supplies motors for the DT4 U-Bahn cars in Hamburg and the new DT5 series being developed at Salzgitter.
All Austrian LRVs, metro cars and trams, including the U6 LRVs and ULF trams for Wien, plus Bombardier's Cityrunner family, are equipped with TSA motors, supplied via Bombardier, Elin EGB Traction or Siemens. Vossloh Kiepe switched from Škoda to TSA motors to equip the Bremen, Dortmund Classic and Porto Swift cars built by Bombardier.
CAF used TSA motors supplied via Elin EGB Traction for its Sevilla trams and Brussels metro cars. Elin also provided TSA motors for the Kinki Sharyo LRVs in both Phoenix and Seattle. TSA is supplying motors for the PESA-built EB74 EMUs.
According to Managing Director Robert Tencl, TSA puts the highest priority on assembling and testing the combined motor and gear assembly itself before delivery to assure smooth running without vibration. Considerable investment in research and development over the past few years has resulted in a variety of prototypes, especially in terms of permanent-magnet technology. At InnoTrans 2008 TSA unveiled a 400 kVA PMS generator for use in diesel-electric trains.
Stadler is still the company's largest single customer, followed by Bombardier, Elin Traction EBG and Vossloh Kiepe, CAF and PESA. In the heavy rail sector, prototype Civia UTF suburban EMUs in Spain have been equipped with TSA motors, as have DE 2000 diesel-electric locomotives for OSE in Greece. TSA also built 630 kW motors for an unspecified prototype high-speed train.
TSA is now building motors in the USA with a local company to with a view to meeting Buy America requirements. It hopes that CAF will specify its motors for the 29 LRVs on order for Houston.