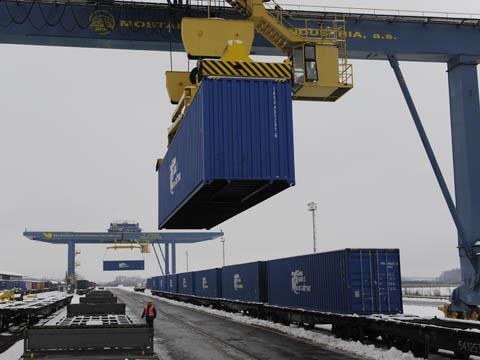 SLOVAKIA: Russian intermodal operator Transcontainer announced on November 23 that it had successfully operated its first complete block train through the container transhipment terminal at Dobra in southeast Slovakia two days earlier.
Last year the RZD subsidiary agreed to lease the 18 ha Dobra facility from ZSSK Cargo for 15 years, as the hub of a proposed network of landbridge container services linking the Russian 1 520 mm gauge network with destinations in Europe served by 1 435 mm gauge routes. A new company, TransContainer Slovakia, has been established to operate the facility, which lies around 10 km from the Ukrainian border.
The inaugural train conveyed 20 containers of components for South Korean electrical supplier LG, en route from Korea to production facility at Wroclaw in Poland. These were shipped from Inchon on October 31 to the Chinese port of Yingkou in Liaoning province. From here they were sent by rail to Transcontainer's Zabaikalsk terminal on the Chinese-Russian border, and then via the Trans-Siberian landbridge and through Ukraine to Dobra.
Customs documentation and inspection work at Dobra was carried out on November 21, while the 40 ft containers were being transferred from broad to standard-gauge wagons for onward movement to Poland.
According to Transcontainer, the end-to-end journey time of 23 days, including 14 days for the Zabaikalsk – Dobra leg, was around half the time that would have been required to move the same load between Korea and Europe by sea.