Due to enter service on S-Bahn routes in Zürich this summer are the first of 35 double-deck commuter EMUs ordered from Siemens in 2003, which offer a high rate of acceleration for rapid journeys between the closely-spaced stops and level boarding from the station platforms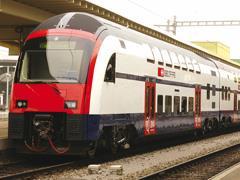 COMMUTERS in Zürich will shortly have their first chance to ride on a fleet of 35 double-deck EMUs built by Siemens for the Swiss city's suburban network. Regular operation of the four-car trains is expected to begin this summer on routes between Zürich and Hinwil.

Swiss Federal Railways placed the initial SFr447m order for 35 RABe514 trainsets in February 2003 (RG 4.03 p183). They are being built by Siemens in Praha, and the first was put on show in Zürich last December before the start of testing on route S14 in April.

At 100m overall, the four-car units are the same length as the existing rakes of three double deck coaches used in push-pull formation with Re450 electric locos, enabling the new and old trains to be used interchangeably to allow flexible train planning and operations. Up to four RABe514 units can be run in multiple, though push-pull operation with a Class 450 is restricted to three RABe514 sets.

On March 20 Siemens announced that SBB had exercised an option worth SFr348m for a further 25 of the EMUs, which are to be delivered in 2008-09.
Passenger interior
The coaches have been designed to make full use of SBB's EBV Special loading gauge, to maximise the space available for passengers. The bodyshells were assembled at Siemens' Praha plant, with steel sheet spot-welded over a steel frame. The driving cars incorporate energy-absorbing structures to protect passengers in a collision, and the glass-reinforced plastic nose mouldings cover a strong steel frame beneath.

The eight sets of swing plug doors on each side of the units are 1400mm wide for rapid boarding, with an entrance floor height of 600mm to provide step-free access from SBB's P55 platforms. One of the intermediate coaches has a wheelchair area with tip-up seats, adjacent to an accessible controlled-emission toilet. The second intermediate car has space for six bicycles. Before construction began a mock-up of half a car was tested by SBB, Zürich Transport Authority and disabled passengers' representatives.

The interiors of the trailer cars were fitted out by Stadler in Altenrhein. The first class area is intended to provide a noticeably different environment to standard class, with carpeted floors, electric sockets and the seating at 2000mm pitch rather than 1700mm in standard class. Both classes have the seats in 2+2 facing format throughout, with cantilevered fixings to leave the space beneath the seats open for easy cleaning.

Large luggage can be stowed between the seat backs, and smaller items can be placed on overhead racks. The lighting is integrated into the overhead racks, and air-conditioning ducts are incorporated into the moulded interior panelling. Onboard passenger information includes LED dot matrix displays and LCD screens.
Traction and controls
Bogies are derived from designs used on ICE trains supplied to German Railway. The four SF500 motored bogies on the intermediate cars are fitted with disc brakes, while the SF40 unpowered bogies under the driving trailers have conventional brake discs and magnetic rail brakes. Steel spiral springs provide the primary suspension, and pneumatic bellows the secondary.

Single-arm pantographs are mounted on each driving vehicle, linked to two vacuum circuit breakers and four transformers per train which feed the frequency converters and static inverters. The entire power conditioning module is combined in a compact framework, containing the IGBTs, capacitors and transducers. The power modules are water-cooled, and each static converter can produce over 1MW, though the full output is not required by the EMUs.

The voltage in the intermediate circuits is dependent on the speed and the torque, with a maximum of 1800V. Two static converters each are operated by a drive controller from the Sibas 32 family.

The trains' auxiliary systems receive a 400V three-phase supply from two static converters, and there is also a 110V DC supply from four-quadrant and PWR IGBT modules which are directly air-cooled. The intermediate voltage is 650V, with a rated output of 70 kVA for each static converter, which is equipped to provide 12 kW for battery charging. A fault in one of the static converters will not restrict functionality.

Redundant traction and control systems are distributed symmetrically throughout the train for reliability. The on-train communication network uses the multifunction vehicle bus as a backbone to control the traction, electrical supply, braking, and air-conditioning systems. Safety-critical functions such as emergency braking are directly operated with conventional links.

Low-temperature testing was carried out at the Rail Tec Arsenal climate facility in Wien, and dynamic tests were undertaken on the Velim circuit in the Czech Republic.

The RABe514 onboard systems can communicate with the time-division multiplex controls of the Re450-powered sets, although the level of diagnostic and other information is reduced.

The usual range of Swiss safety system are fitted, including Integra Signum and ZUB262, which incorporates ZUB121 functionality. The driver is monitored by an onboard supervision system, linked to the railway control centre by radio. Provision has been made for the installation of ETCS and GSM-R equipment in the future.

TABLE: RABe514 in Brief

Number of sets 35 + 25 in option

Cars per set 4

Gauge mm 1435

Power supply 15 kV 162/3 Hz

Top speed km/h 140

Max acceleration m/s2 1·1

Rated output MW 3·2

Overall length m 100

Width mm 2 780

Floor height mm 600

Seats first 74

second 374

Standing passengers approx 600

Weight tonnes 218

Axleload tonnes 20


CAPTION: An EMU passes Uttigen during test running on the Bern - Thun line on March 13
CAPTION: Interior of the lower deck, showing the entrance vestibules which offer level boarding from 600 mm high platforms Photo:SBBCAPTION: Despite the sharply-curved roof profile, Siemens has been able to provide shallow overhead racks on the upper deck
CAPTION: The first RABe 514 was unveiled to the public in Zürich on December 2 2005