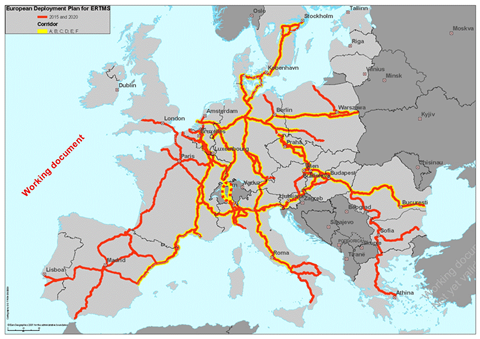 EUROPE: The European Commission adopted an ERTMS deployment plan on July 22, setting out legally-binding deadlines for the implementation of ETCS and GSM-R on key corridors. Coming into force on September 1, it amends the Technical Specifications for Interoperability for Control-Command and Signalling (TSI CCS) and is intended to co-ordinate deployment at a European level and provide railways and manufacturers with the confidence to invest in the technology.
Around 9 000 route-km in six freight corridors must be equipped with ETCS by 2015. The remaining 5 500 km of the corridors must be completed by 2020, along with 10 000 km of links to ports and freight hubs. However, national plans are being put in place going beyond these obligations, and the Commission believes around 40 000 route-km will be equipped by 2020.
There are currently more than 20 national signalling systems in use within the European Union. The Commission sees this as 'a rift in the single market and an obstacle to free movement', but was concerned that in the absence of co-ordinated European plan each state might wait for its neighbours to take the first step. As a result, ETCS now becomes mandatory for EU-funded projects which include new or upgraded CCS, and GSM-R is required when radio communications are upgraded.
Vehicles ordered after January 1 2012 or entering service after January 1 2015 must be equipped for ERTMS, though there are some exceptions for domestic and regional stock. The Commission hopes that fitting equipment as standard will improve the economic case for wider ERTMS deployment.
The adoption of the plan was welcomed by UNIFE, with Director General Michael Clausecker commenting that 'achieving a fully-interoperable railway system is indispensable to compete with other modes of transport.'
Suppliers will be able to make more accurate predictions of the market for ERTMS, which the Commission described as a 'major industrial success for Europe.' UNIFE estimates that around 33 000 track-km are now fitted or contracted to be fitted with ERTMS, with nearly half of this being outside the EU.