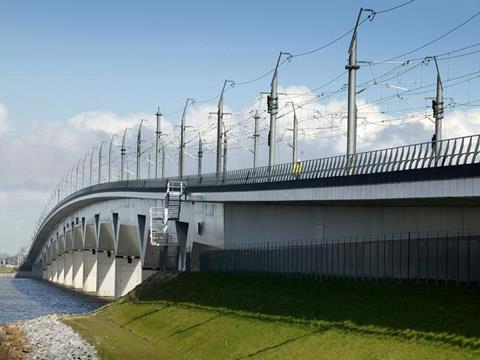 AS WE have reported before, the prospects for a start of passenger services on HSL-Zuid with the December 2007 timetable change have been declining steadily. Now it is official: Dutch Transport Minister Camiel Eurlings has confirmed that the start of revenue operation had been postponed indefinitely.
On October 4 Eurlings received a letter signed by the Vice-President of Bombardier's Locomotives Division Dr Karl Runge and the Managing Director of High Speed Alliance Nol Döbken. This explained the delay to the delivery of HSA's Ansaldobreda trainsets and the alliance's 'entrepreneurial decision' to lease Traxx multi-system electric locos from Angel Trains to work an interim 160 km/h service.
However, 'the delayed opening of the Betuwe Route continued to hinder the development and testing of the onboard ERTMS for the Traxx MS.' By July the various parties were warning that 'the schedule for homologation of the Traxx MS on HSL-Zuid was getting critical'. And 'despite all willingness, all co-operation and all efforts of the stakeholders involved', Runge and Döbken warned the minister that 'the likelihood to start operations on December 10 [is] too little to recommend to you to take a "Go" decision for that date'.
Angel Trains has now handed over two of the 12 locos to HSA for comissioning, and an appendix to the letter confirmed that Bombardier has 'all required information on the HSL-Zuid wayside [equipment], and is now able to start specific laboratory testing'. Runge and Döbken now favour a multi-stage programme which will begin with approval for Level 1 operation before moving on to Level 2. But they warn again that 'all the different process steps are containing specific risks for their timely completion.'