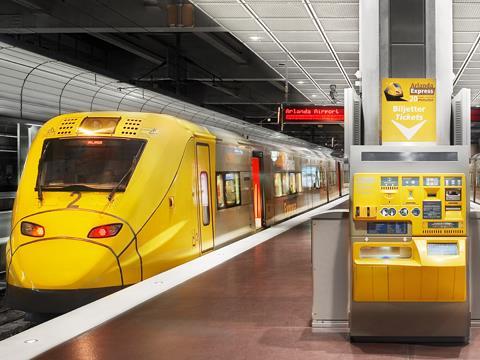 SWEDEN: EuroMaint Rail has won a SKr100m contract to refurbish the Arlanda Express trainsets. 'The fleet of seven Arlanda Express trains is to be given a brand new, modern design', said Per Thorstenson, Chief Executive of A-Train, operator of the dedicated shuttle service from Stockholm C to the capital's main airport.
EuroMaint Rail's site at Malmö will carry out an extensive exterior and interior refurbishment of the four-car 200 km/h EMUs, which were built by Alstom and entered service in 1999. The work will begin in February 2010, to specifications developed by Idesign, and will provide an increase in capacity.
'It is exciting to work with such a well thought out and modern design, and we will also be well prepared for the maintenance of the 'new' rolling stock once they return into service,' said EuroMaint Rail CEO Mats Önner.
Airport operator LFV has begun a trial of automatic check-in at Stockholm C station for passengers flying with Norwegian, Finnair and Höga Kusten.