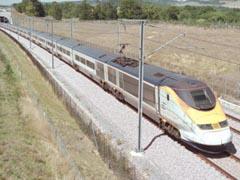 Plans to form a single company tentatively called Eurostar International that would have managed the train service between London, Paris and Brussels as a unified operation were formally abandoned by the Boards of SNCF, SNCB and London & Continental Railways on March 12.
Originally SNCB had intended to take a 5% stake in EI, but after the Belgians decided that they didn't want to be involved, LCR would have owned 45% and SNCF 55%. However, the target for reaching agreement was successively pushed back, and Project Jupiter eventually became mired in the problems of trying to reconcile LCR's peculiar status as a nominally private company largely dependent upon debt underwritten by the UK government with SNCF's position as a state-owned enterprise.
In reality, the commercial objective had already been achieved through the unified management structure established last year in advance of the formal restructuring. This has simplified decision making, allowing a more flexible range of cheap fares to compete with the low-cost airlines.
Eurostar saw year-on-year traffic through the Tunnel boosted by 15% during the last three months of 2003, and the increase rose to 20% during January and February when 1·02 million passengers were carried. This puts Eurostar firmly on course for record cross-Channel carryings during 2004, making up successive losses during the past three years and over-topping the peak of 7·13 million achieved in 2000.
Opening of CTRL Section 1 - which cut 20min off journey times from September 28 - is the main factor, but reliability has also improved dramatically. During February, the proportion of trains arriving more than 15min late fell to 1·8%, a huge improvement compared to 29·2% in February 2003.
Director of Communications Paul Charles said on March 9 'it is clear that travellers are deserting airlines on our routes'. He believed they were 'struggling to compete with Eurostar's high levels of punctuality and frequency of service.' Eurostar reported that BA and Ryanair had 'closed or announced the closure of some services to Paris and Brussels, while bmi is cutting its frequency to Paris.'