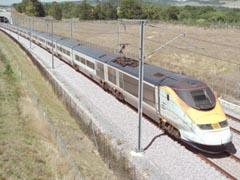 EUROPE: 'Hopefully very soon, we will be a single Eurostar train operating company' in the UK, France and Belgium', Eurostar Chief Executive Richard Brown told the UK's Railway Study Association on October 14.
'At the moment, actually, in France I have no authority, I have no accountability. I can only operate by persuasion and influence. Hopefully from early next year Eurostar International will be the first truly international passenger train operator in Europe'.
'That provides us with a much better platform to fight the competition when it arrives, and both Air France and DB - and I've no doubt quite a few others - are very seriously lined up, coming in and taking some of our business', said Brown.
'But it also provides us with the ability to actually start looking further afield. In the short run, what we're doing is working hard with fellow train companies, both in the UK and companies like NS in Holland, to try to improve connectivity at our key terminals. We saw 100% growth last year in passengers travelling from the Midlands down to London onto Eurostar.
'We've seen 30% growth this year in passengers coming from Holland through to London, so from a small start it is working. Longer term, we are now looking at where we should go beyond Paris and Brussels, and the obvious and most attractive one is Amsterdam. There are already 3·5 million people a year travelling - and flying mostly - between London and Amsterdam, it's a big market'.
Although Thalys will begin high speed operations on HSL-Zuid in December, Eurostar would 'need to buy some new trains to run through because we can't adapt our trains to ERTMS signalling', said Brown.
And in the UK, 'behind the scenes, without being too covert about it, I think we have played quite an important role in making the case for High Speed 2, so in the longer run we need to think about running our trains beyond London. These things take time, with long asset lives and a big investment, but we are now very actively looking at the next generation of Eurostar', he said.