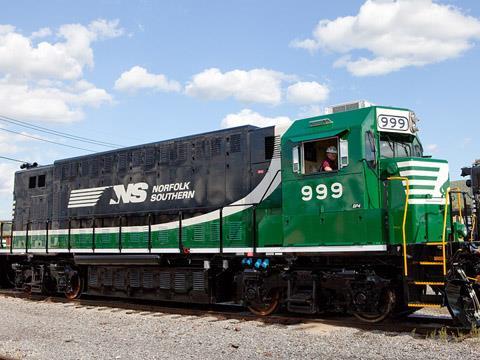 USA: Norfolk Southern unveiled an experimental 1 500 hp battery shunting locomotive at its Juniata workshops in Altoona, Pennsylvania, on September 28.
Based on an EMD GP38 locomotive, NS 999 has no onboard power plant, instead the 1 080 lead-acid 12 V cells are charged by plugging the locomotive into an external supply.
Brookville Equipment Corp supplied traction control systems, as well as regeneration technology which uses energy recovered during braking to help top up the battery. This is expected to enable the locomotive to run for three shifts before recharging.
NS 999 has been developed in partnership with the US Department of Energy, Federal Railroad Administration and Pennsylvania State University, assisted by $1·3m of federal funding.
'The transportation sector currently accounts for just under a third of US greenhouse gas emissions, more than half of nitrogen oxide emissions, and almost three-quarters of our petroleum consumption', said US Secretary of Transportation Ray LaHood at the launch of the locomotive. 'We need to change that.'