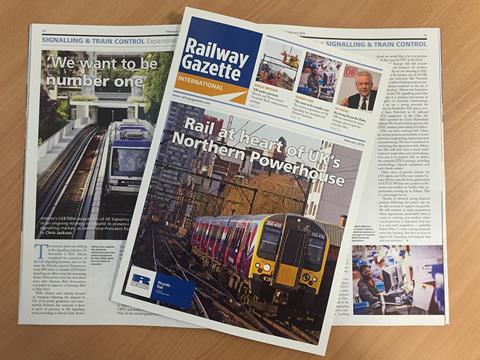 Feature articles in the latest issue of Railway Gazette International, the leading business journal for railway operators and suppliers, read in 140 countries. Subscribe to Railway Gazette International today.
Comment
The time to innovate is now
News
Main Line
Urban Rail
Market
Industry
Innovations
Pointers
Analysis
FAST legislation gives Amtrak a secure funding stream, regulatory reform makes progress in India, economic woes weigh on Russian Railways
Great Britain
A new hope in the north
More than £1bn of investment and significant devolution of political control is included in two franchises covering the operation of local and inter-urban passenger services across the north of England from April 1. Tony Miles and Nick Kingsley explain
Timescales revised as NR's project costs rise
Caught between escalating costs and a less flexible funding regime, Network Rail has been forced to reschedule many of the projects in its current five-year investment programme
Signalling & train control
'We want to be number one'
Alstom's US$700m acquisition of GE Signaling is a key element in an ongoing strategy to expand its presence in the global signalling market, as Senior Vice-President Pascal Cléré explains to Chris Jackson
Norfolk Southern looks beyond PTC in telecoms enhancement
US Class I railroad Norfolk Southern is gradually upgrading its communications network to an all-IP infrastructure. As well as enhancing safety by enabling the roll-out of PTC, this should also bring a raft of wider benefits to the business
Signalling project round-up
ETCS in service between Athus and Antwerpen, progress in the Thameslink core, Russian trials combine satellites with ETCS
Information systems
Keeping track of rail freight
Telematics have been offering benefits to shippers and operators in the road sector for many years, but rail must catch up if it is to improve its competitiveness. Reinhard Christeller reports from Luzern
The connectivity conundrum
The key to the connected train of the future lies in intelligent use of onboard components that can provide a panoply of related services for the train operator, while mitigating the cost of web access, says Andrew Taylor, Chief Executive of Nomad Digital
In focus
DB action plan targets customer satisfaction
DB AG Chairman & CEO Rudiger Grübe has unveiled a three-stage programme of reforms and investment and a stronger focus on performance to restore the national railway's flagging reputation
Research & skills
Innovation hub developed at the University of Huddersfield, first tram simulator in Latin America installed
Forum
People
Dieter
Sidetrack
Diary
Viewpoint
Mike George of insurance provider Willis Group explains how the EU's Fourth Railway Package heralds a major opportunity for new entrants to the passenger market, but they need to understand fully a panoply of operational and cultural challenges
Railway Gazette International is the leading business journal for railway operators and suppliers, read in 140 countries. Subscribe to Railway Gazette International today.