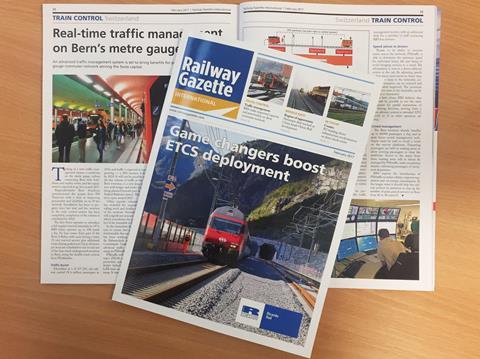 Feature articles in the latest issue of Railway Gazette International, the leading business journal for railway operators and suppliers, read in 140 countries. Subscribe to Railway Gazette International today.
Comment
The cost of everything...
News
Main Line
Urban Rail
Market
Industry
Innovations
Pointers
Analysis
Concern mounts over the effect on international rail services of enhanced border checks in Europe, China Railway Corp to build another 2100 km of new line this year as expansion forges ahead, India's state governments seek to develop suburban railways
Train control & automation
In search of the game changers
With the adoption of the latest Baseline 3 revision promising stability for the core ETCS functions, research is now focusing on innovations that could add additional functionality without affecting backwards compatibility. Chris Jackson investigates
Real-time traffic management on Bern's metre gauge
An advanced traffic management system is set to bring benefits for passengers on the busy Regionalbahn Bern-Solothurn commuter network serving the Swiss capital
Avoiding collisions at low cost
A stand-alone collision avoidance system is currently being rolled out on the metre gauge Harz rail network to improve safety on single-track routes. Using direct radio communication between trains avoids the requirement for fixed equipment
Middle East
ISR presses ahead with network expansion
Quadrupling work continues on Israel Railways' busy cross-city corridor in Tel-Aviv, while electrification is getting underway and tenders have been called for resignalling and new rolling stock
A region of opportunity
We round up the latest developments in the burgeoning main line and urban rail market in Iran and the Gulf region
Making tracks to Bursa
Work is underway to connect Turkey's fourth largest city to its growing main line network, but since the project to build 105 km of new alignment was approved in 2011, construction has made only fitful progress, as Benjámin Zelki explains
Small plant
Making light work
David Lustig reports on innovations in lighting equipment on show at the recent NRC exhibition in Boca Raton
In focus
EU funds drive infrastructure renewal
Supported by EU financing, tangible progress is being made to modernise the Croatian national network. The main focus is on three key corridors linking Zagreb with regional centres and neighbouring countries, reports Toma Bacic
Research & skills
Imperial College London evaluates the use of solar energy to power DC electrification, Melbourne to develop a connected transport laboratory
Forum
People
Dieter
Sidetrack
Diary
Viewpoint
James Stamp of professional services firm KPMG looks ahead to assess the trends that could shape the transport sector in the UK in 2017
Railway Gazette International is the leading business journal for railway operators and suppliers, read in 140 countries. Subscribe to Railway Gazette International today.