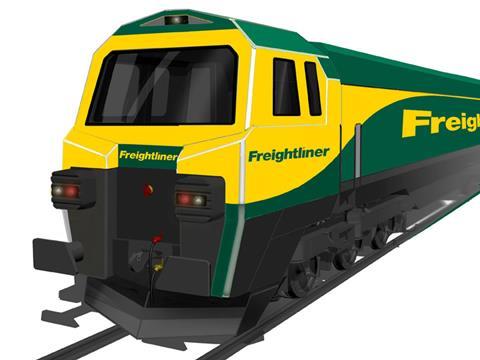 INNOTRANS: Freightliner and GE Transportation have unveiled a model of the new PH37ACmi PowerHaul diesel locomotives being developed for the UK market.
PowerHaul is based on the Evolution Series locomotive platform which GE Transportation introduced in 2005. Freightliner ordered 30 locomotives in November 2007, and the first are due to be delivered in the fourth quarter of 2009.
As the launch customer for PowerHaul, Freightliner has helped shape the specification under 'Project Genesis'. The design features a North American-style narrow body with exterior walkway. The cabs will have a left-of-centre driving desk with electronic information screens, and the sound insulation and air conditioning are intended to offer a better crew environment than the locomotive's main competitor, the EMD Class 66.
The locos will have a newly-developed 16-cylinder engine, and Freightliner claims they will be '7% more fuel-efficient than previous locomotives', achieving 197 g/kWh. A further 3% will be gained by controlling the auxiliaries separately from the engine speed and using current produced during regenerative braking to drive the auxiliaries.
The AC traction motors will be individually controlled by separate inverters to give a high starting tractive effort. 'Packaging all of the new technology including AC traction, dynamic brake, air-conditioned cabs, into a locomotive that is compliant to UK clearance gauge and axle weight has been a challenge,' said Tim Shakerley, Engineering Director, Freightliner Group, 'but the design team has been uncompromising in delivering these objectives with a delivery date towards the end of 2009.'
The GE locos form the largest single order placed by Freightliner, which has 130 EMD Class 66 locos in use on intermodal and bulk freight businesses in the UK and Poland.
Freightliner said the PowerHaul locos 'have not been assigned to a particular Freightliner business at this time, but will be used to increase tonnages hauled on specific routes where there are capacity constraints.'
GE Transportation also released an image of a possible mainland European version of the PowerHaul locomotive.
Freightliner PowerHaul locomotive in brief
Body
Narrow with exterior walkway
Length bver buffers
21710 mm
Height (over cab)
3 917 mm
Width (over cab sides)
2 642 mm
Total weight
129 tonnes
Axle configuration
Co-Co
Gross horsepower
2 750 kW (3 686 hp)
Speed (max)
120 km/h
Starting tractive effort (max)
534 kN
Wheel diameter
1 067 mm
Fuel capacity (usable)
6 000 litres
Engine
PowerHaul P616
Fuel distribution system
Common rail
Alternator
GE GTA series
Traction motors
AC - GE 5GEB30
Bogies
Fabricated frame with axle hung motors
Air Brakes
Dynamic Electronic - EAB
Control System
GE Common Control Architecture
Diagnostics
Self-testing with diagnostic display
Railway Gazette International is the official international media partner of InnoTrans.
Meet the team at Stand 221 in Hall 1.2