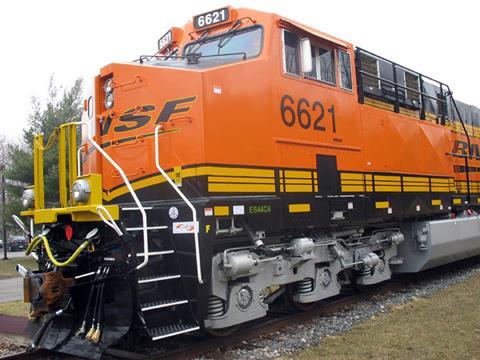 USA: GE Transportation formally unveiled its ES44C4 locomotive design with a roll-out ceremony on May 18. Part of the Evolution family, the ES44C4 is derived from the ES44AC, but with the centre axles on each bogie unpowered. The aim is to offer a replacement option for DC-motored locomotives which have a lower initial cost but higher maintenance requirements.
The ES44C4 provides 'a direct replacement option for the current six-axle, 4 400 hp locomotives being delivered today', said GE Transportation President & CEO Lorenzo Simonelli. 'This locomotive could simply mark the end of DC power in North America, period.'
A patented Dynamic Weight Management System automatically transfers weight from the unpowered to powered axles to maximise performance when starting, on gradients and during adverse environmental conditions. It operates only at low speeds, and is expected to redistribute axle weight for less than 5% of the total operating time.
Launch customer BNSF has taken delivery of 25 units. 'We are putting these locomotives through rigorous testing to determine the benefits of this new AC alternative, and the early results have been positive', said BNSF Vice-President of Mechanical & Value Engineering Chris Roberts.
'Compared to 30-year and older 3 000 hp DC locomotives, ES44C4 uses up to 17% less fuel and reduces emissions by approximately 70%', according to Graciela Trillanes, GE Transportation's product manager for the ES44C4.
Simonelli used the May 18 roll-out to announce GE Transportation's intention of getting back into the passenger market, saying the company could create the next generation of passenger locomotives in partnership with Amtrak and the US government.