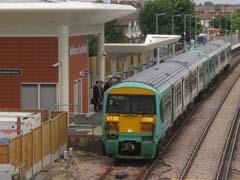 UK: The Department for Transport has awarded the next South Central passenger franchise to incumbent Govia, a joint venture of Go-Ahead (65%) and Keolis (35%). The other shortlisted bidders were National Express Group, NedRailways and Stagecoach.
The new franchise will retain the name Southern. It runs for five years and 10 months from September 20 2009 to July 25 2015, the short duration reflecting the reorganisation of services resulting from the Thameslink Programme. DfT has an option to terminate the franchise in July 2014 if performance benchmarks are not met, or can award a discretionary extension to July 2017.
Premium profile
Underlying full-year passenger traffic is expected to reduce in the year to June 2010 by around 2% compared to the year to June 2009, and is not expected to return to its previous level until the year to June 2012.
Despite this, Govia is aiming for overall revenue growth of around 4% per year over the next two years. Around half is expected to come from an expanded timetable and increased revenue protection measures, with the balance achieved through improvements in punctuality, marketing, retailing and ticketing.
'Cap and collar' revenue share applies from the start of the franchise, with Govia to share 50% of any incremental revenue above 102% of its bid target with DfT, and 80% above 106% of bid revenue. Revenue support applies from September 21 2013, whereby the DfT provides 50% of any incremental shortfall in revenue below 98% of bid and 80% support for any shortfall below 94% of bid revenue.
The current subsidy will become a premium payment in the first year of the franchise as a result of changes to the track access regime which will bring about an £80m/year fall in charges. The changes have a net present value of around £375m over the core franchise period of five years and 10 month. After the first year, increases in the nominal value of annual premium payments to June 30 average £40m per year, resulting in a premium with a total net present value of £534m to DfT over the core period.
Changes
Features of the franchise include the introduction of a new smart card ticketing system by early 2012. Similar to Transport for London's Oyster, this will enable automatic top-ups for season tickets at 26 stations outside London and 18 stations within London. ITSO-compatible ticketing will be offered across the South Central network, with a multi-modal pay as you go system to be launched in partnership with Metrobus around Gatwick and with Brighton & Hove Buses.
Non-stop London Victoria - Gatwick Airport trains will be retained. The interiors of the Class 455 inner-suburban EMUs will be 'refreshed' by 2012, and Class 377 units deployed on suburban services will be refreshed by 2011 'enabling maximum capacity benefit' from the move to 10-car operations during the franchise. All Class 377s will have regenerative braking operational by 2010.