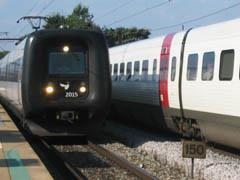 DENMARK: Parliament agreed a DKr94bn transport infrastructure plan running to 2020 on January 29. This brings forward infrastructure projects which had been planned for 2010 onwards, and was described by Transport Minister Lars Barfoed as 'two-thirds green, one third black', reflecting the split between public transport and roads.
As well as DKr22bn for the resignalling programme (p39), rail spending includes DKr500m for a light rail line between Århus station and Lystrup, DKr200m to improve freight services, and DKr200m for station modernisation.
Arriva, DB Regio and the First Jylland joint venture of DSB and FirstGroup company First Rail Holdings submitted bids for a contract to operate passenger services in central and western Jylland from December 2010.