CHINA: Following the successful completion of cold weather trials, the first HXn3 diesel locos are entering service with Chinese Railways.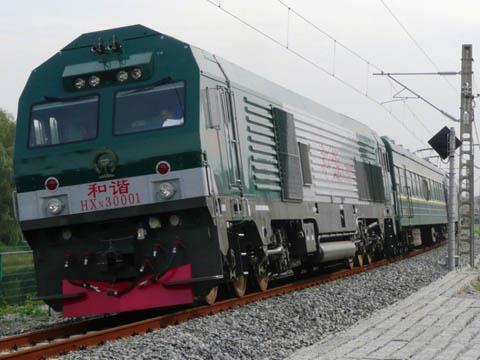 May was due to see the formal handover of the first batch of JT56ACe diesel locos for commercial operation on Chinese Railways. Also known as the HXn3 Harmony class, the 4 400 kW loco is EMD's first design for the Chinese market.
Under a contract signed in 2005, EMD is supplying 300 locos to the Ministry of Railways in partnership with Dalian Locomotive Works. The first HXn3 was rolled out in July 2008, and has been undergoing acceptance testing. Deliv­eries are expected to continue for around two years.
According to EMD's Vice-President, International Sales & Service, Albert Enste, delivery of the first units 'marks an important milestone for the entire EMD organisation'. All of the locos are being produced in China 'from number one', which he says 'is a novelty for this industry' and reflects 'the trust which EMD has in its Chinese partner.'
The JT56ACe is designed to haul trains up to 5 000 tonnes at a maximum speed of 120 km/h. The locomotive is powered by EMD's 16V-265H engine, rated at 6 000 hp, and meets US EPA Tier 2 emissions regulations. AC traction drives and micro-processor controls help to maximise performance and fuel efficiency. Up to three locomotives will be able to operate in multiple.
The twin-cabbed loco has a full-width monocoque bodyshell with an internal passageway between the two cabs to ensure crew safety in severe weather conditions. This also facilitates routine inspections and gives easy access for maintenance.
During the past winter, the first loco was subjected to cold weather trials at temperatures down to -40°C. To ensure that the HXn3 can operate in severe conditions, the air dryers for the brakes have inbuilt heaters, and an air system is used for engine start-up. The engine compartment has electro-pneumatic shutters to prevent heat loss, while the walkway and access doors have seals to maintain the engine compartment temperature. The electrical compartment is fully watertight. The 265H engine has been adapted to operate with low-temperature diesel fuel, and can be operated with or without anti-freeze in the coolant.
As well as testing traction performance, the trials also studied working conditions in the dual-isolated cabs. Each loco has six 8·1 kW cab heaters, thermal insulation and heated windscreens, which ensure crew comfort in low temperatures and also reduce sound and vibration levels.
Test results showed that four heaters powered from a lineside connection could heat the cab to 20 or 25°C from an ambient temperature of -29°C in less than 30 min. The thermal insulation maintained the cab temperature above 20°C for 20 min after the heaters were turned off.