SOUTH KOREA: The first of 19 KTX-II high speed trainsets built for national operator Korail by Hyundai Rotem is currently undergoing a six-month testing programme before entering service on the Seoul – Daegu line.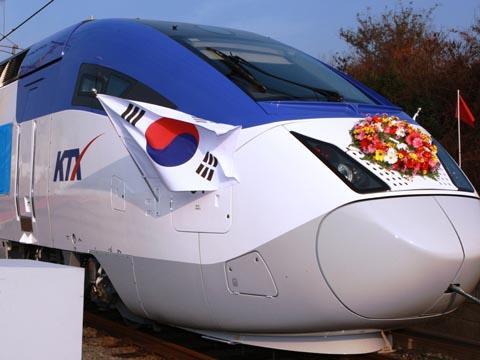 Stéphane Pottier
Industrial Design Director, MBD Design
The roll-out of the train last November marked the end of a long journey for the MBD Design team which styled the train both internally and externally. The journey began three years ago when a Rotem engineer approached us at an interiors exhibition. Rotem and Korail were looking for a respected industrial design agency to create proposals for the KTX-II - Korea's first locally-produced high speed trainset; the original KTX sets were export versions of the French TGV.
After winning a competitive bidding process, MBD Design was given a simple brief: to create a modern and trend-setting train, while offering Korean travellers a familiar and comfortable atmosphere.
This led to a detailed study lasting a year and involving almost 3 000 h of design work, including 18 trips to Korea which were partly aimed at ensuring MBD's staff gained a better understanding of Korean culture and passengers' travel habits.
MBD worked closely with representatives from Hyundai Rotem and Korail to create a process management system. A design committee that included local academics and designers then helped the Korail and Hyundai management to assess the different options put forward by MBD.
Our team endeavoured to ensure no stone was left unturned. Every interior item and all the 'secondary spaces' went through a thorough examination in terms of ergonomics and overall aesthetics.
The study in turn resulted in the construction of a 35 m long full scale mock-up, built in Korea under MBD Design's direction. The mock-up showcased the proposed front end and exterior, first and second class interiors, the bar area, toilets and vestibules, giving an overall impression of the vehicle.
The mock-up was exhibited in the main station in Seoul, and a number of customer surveys were undertaken to assess the public response to it. The design met with an encouraging 90% approval rating.
Relaxation is important
The first class saloon evokes a traditional Korean library, using warm tones with wood panelling, indirect lighting and a generally luxurious and cosy atmosphere. Korean business travellers often see a journey by rail as a welcome pause in their hectic working lives - South Korea has among the longest working hours in the world, and as a result sleeping passengers are a common sight on Korail's inter-city services.
Second class is in many respects no less quiet and relaxing, thanks to its soft grey tones and, again, the use of indirect lighting, an almost mandatory feature in modern long-distance trains. In both classes, the carpets and seat fabrics were inspired by traditional Korean graphics, modernised and used in subtle forms of 'grey on grey': passengers will notice them if they look closely, but they are in no way intrusive.
The seats, supplied by Daewon, are a significant part of the design, using a gently curved shape to enhance the feeling of softness and relaxation. A softer blue colour is used to differentiate the bar area, which was shaped to offer a sense of dynamism, reflecting the fact that passengers will spend relatively little time there.
The toilet facilities were intended to be functional with a strong focus on ease of cleaning to ensure a continually hygenic environment.
In the end, we feel that Korail and Hyundai Rotem can be proud of the result: a modern high speed train that retains the traditional hallmarks of its distinctive country of origin.