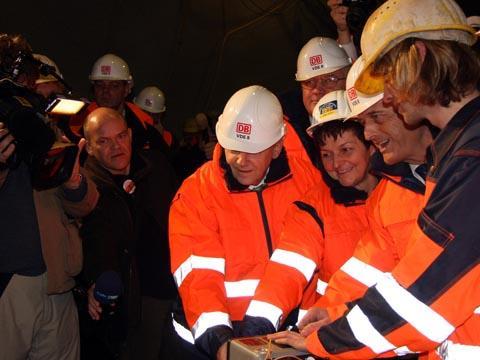 GERMANY: Federal Transport Minister Peter Ramsauer, DB Chief Executive Rüdiger Grube and Sachsen-Anhalt Transport Minster Karl-Heinz Daehre watched the breakthrough of the 6 466 m western bore of the Bibra tunnel on March 3. The 6 970 m Finne tunnel was also holed through on the same day.
Three twin-bore tunnels totalling 15·4 km are being built for the 123 km Erfurt - Leipzig/Halle high speed line which is set to open in 2015. The route forms part of the 500 km Nürnberg - Berlin Corridor 8 which is being developed at a cost of €10bn under Germany's post-reunification investment plan.
Erfurt - Leipzig journey times will be cut from 70 to 39 min, while Berlin - München will be cut from more than six to around four hours.