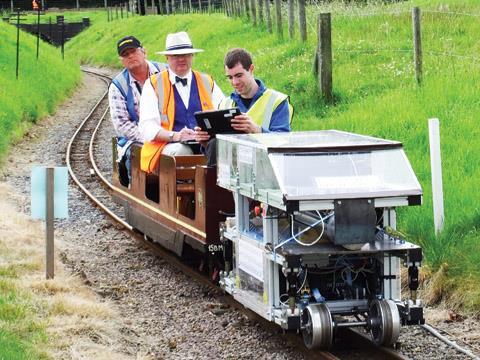 UK: A demonstration run by the UK's first hydrogen-powered locomotive provided a highlight for the seventh International Hydrail Conference on July 3-4, hosted by the University of Birmingham and sponsored by the Birmingham Centre for Railway Research & Education.
The 260 mm gauge locomotive had been built by the university's students and staff to compete in the Institution of Mechanical Engineers' inaugural Railway Challenge contest. Built mainly from off-the-shelf components, it is intended to demonstrate that hydrogen is a viable alternative to fossil fuels for certain rail applications. A 1·1 kW proton exchange membrane fuel cell is used to charge four lead acid batteries, along with regenerative braking for energy recovery. The batteries meet the peak loads required to drive two permanent-magnet DC motors, providing enough tractive effort for the 320 kg loco to haul a 4 tonne trailing load.
The conference included 14 presentations from Austria, Germany, Russia, the UK and the USA, discussing the potential of hydrogen as a railway fuel from both environmental and economic perspectives. Speakers including Prof Rod Smith of Imperial College London and Jeff Allan from the UK's Rail Safety & Standards Board, who argued that most of the issues surrounding hydrogen are based on widespread misconceptions, which could be dispelled by demonstrating that the technology works, and that it is both safe and economically viable.
Rex Harris and Robert Steinberger-Wilckens from the University of Birmingham reviewed developments in hydrogen storage, including metal-hydride technology, where hydrogen is absorbed into the surface of a metal powder at relatively low pressure, offering a potentially attractive alternative to compressed gas storage.
Andreas Hornung from Aston University described experimental processes to convert biological matter such as food waste, garden waste and sewage sludge into hydrogen, a procedure that is actually carbon negative. Further presentations discussed scientific and engineering studies underway around the world, the development of various prototypes and the delivery of five hydrogen-powered locos to a platinum mine in South Africa.