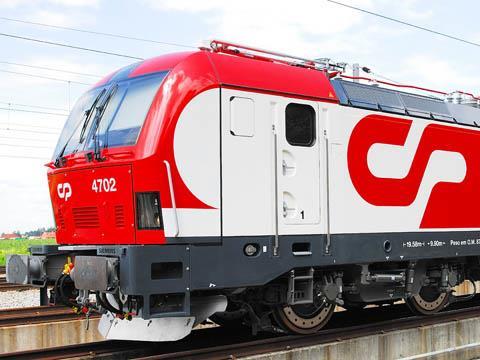 EUROPE: Simultaneous departures from Lisboa and Madrid at 21.00 GMT on March 24 will mark the launch of Iberian Link, a joint CP Carga and RENFE Mercancías freight service connecting three important Portuguese ports with Spain.
Iberian Link is the first joint service launched under a wide-ranging cooperation agreement between the two state-owned freight operators. Intended as a viable and efficient alternative to road transport, trains from Lisboa, Leixões and Sines will run overnight to the Madrid freight hub, with connections to Zaragoza, Tarragona, Barcelona and Valencia within 24 h. Services will initially run on Tuesdays, Thursdays and Fridays, with Lisboa - Madrid timed at 15 h.
Turnover is estimated at €1m for the first nine months, with an annual growth rate of 30% for the next two years. The initial capacity is more than 14 000 TEU a year, equivalent to 7 200 lorries. Hazardous goods can also be carried. If demand grows the service will run daily, increasing capacity to 24 000 TEUs. Medium-term plans include expansion to destinations including France and Germany.
CP Carga traffic stayed at around 10·5 million tonnes in 2008, despite the economic downturn in the second half of the year. It operates 1 100 domestic and 20 international freight trains a week, and total revenue grew 4% to €75·3m during 2008, with traffic revenue of €69m.
Its Spanish counterpart RENFE Mercancías operated an average of 2 400 domestic 200 international trains a week, generating revenues of €324m.