FRANCE: Through the creation of Infrarail, SNCF is giving its infrastructure services business a more commercial focus as the sector becomes increasingly competitive. Laurent Charlier reports.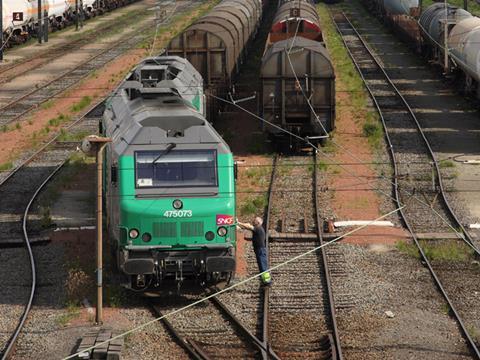 Officially launched on January 21, Infrarail is SNCF's dedicated infrastructure services business for the management of the materials supply chain to major projects. Operating infrastructure trains and delivering materials to worksites is nothing new to SNCF's Engineering & Infrastructure division, but Infrarail marks a significant development of existing practice. SNCF intends to focus core skills, services and staff within the 2 000-strong business unit. Currently, Infrarail's business is worth €800m, but SNCF expects this to exceed €1bn by 2011.
Given that logistics activity accounts for around 30% of the overall cost of a typical infrastructure project, the new organisation should allow for significant gains in efficiency and productivity for both SNCF and its customers. This is of particular importance in the context of France's rapidly-changing market for infrastructure services, driven by a number of trends:
A marked increase in infrastructure work in the years ahead. Investment in the existing RFF network will grow from €800m in 2005 to €1 8bn in 2012, and in addition there is a vast programme of new line construction totalling 2 000 route-km by 2020.
The opening of the sector to competition. Several new entrants are able to offer similar supply chain services for infrastructure work, among them the recently-created Eurovia Travaux Ferroviaires, a subsidiary of Vinci.
Increased supply chain complexity caused by the industrialisation of infrastructure work. The reduction in 'white' periods where lines are closed for maintenance for several hours a day, pressure on maintenance resources and the desire to manage projects from fewer but larger yards and worksites are all part of RFF's aim to reduce costs by 15% between 2008 and 2012.
Logistics providers must therefore adapt to the changing environment. SNCF's organisational structure is intended to reflect this by focusing on six key strengths: industrialisation, standardisation, preparation, reliability, competitiveness and tailored service. Within SNCF, Infrarail offers customers a range of services from complete supply chain and site management through to specific individual products covering just one part of a project. Infrarail can plan deliveries to the customer in advance, offer a catalogue of 27 000 approved products from 600 providers, manage storage of materials off-site at 23 regional bases and deliver by rail, road or waterway as required.
The business also expects to participate in the preparation and ?dismantling of worksites, together with the removal and recycling of used materials. Allocation of a dedicated project manager is also available, dependent on the customer's wishes and the size of the project.
Careful planning
Once the location of project sites has been identified, the operation of supply trains must be rigorously planned in advance. Infrarail's service plan for 2009 was in fact drawn up with RFF in 2007; Infrarail expects to lift ?between 700 and 800 million tonne-km this year. An evaluation of driving resources has been undertaken, and as a result 70% of Infrarail trains will be crewed by Fret SNCF, the remainder by SNCF Infrastructure. Within this 30%, some services will be operated by VFLI under a contract agreed last year. Six pools of around 50 drivers will be created to operate short distance services to and from project zones in parts of the country away from the core Fret SNCF network.
In addition, the Infrarail organisation includes two divisions, Infraloc and Infrawag, to manage the locomotive and wagon fleets. Infrarail has just under 700 locomotives at its disposal, of which around half are shunters. A €271m investment programme for locomotive acquisition and refurbishment is underway, with options for further work worth €44m. This will involve the purchase for €30m of 15 single-cab locomotives from Alstom/Vossloh based on the 160 Class BB460000 units currently being delivered to Fret SNCF, whilst an order for around 15 Class BB475000 diesels from Alstom/Siemens is also likely, supplementing those being delivered to the freight business (RG 3.07 p145).
Five from an eventual total of between 20 and 30 Class BB66000 ?locomotives were refurbished with new MTU engines in 2008 and reclassified as Class BB69000, whilst 200 Class Y7100/7400 shunters are to be upgraded at a cost of €100m. Two prototypes are to be produced by the Socofer/Voith consortium, which will also modernise the first 20 examples. The rest of the work will be undertaken by SNCF using kits.
Infrarail intends to improve the productivity of its fleet of 18 450 specialist wagons. Traditionally, these have had a dual role conveying materials to worksites and acting as a tool for the teams to use whilst construction work is undertaken. However, given that these wagons are used less intensively than those for revenue-earning freight, the fleet is older overall, although the most elderly vehicles are expected to be withdrawn shortly.
Rhin-Rhône showcase
The launch of tracklaying work on LGV Rhin-Rhône in 2009 (RG 9.07 p543) offers SNCF the opportunity to highlight the capabilities of its new business unit — the locomotives allocated to haul material trains to the construction base at Villersexel will be repainted in Infrarail's yellow livery.
Under the terms of its contract with RFF for LGV Rhin-Rhône, Infrarail was due to commence delivery from March 15 of 1·4 million tonnes of ballast, 600 000 m of rail, 550 000 monobloc concrete sleepers, 350 000 m of catenary wire and 63 track machines to Villersexel. The contract stipulates that Infrarail must achieve 95% reliability whilst operating up to eight trains/day.