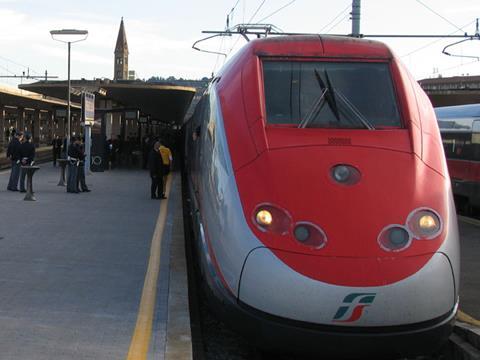 ITALY: Celebrations were held in Milano on December 5 to mark the completion of the final sections of the north-south high speed rail corridor, which opens for revenue service with the timetable change on December 13.
Completion of the Novara – Milano, Bologna – Firenze and Napoli – Salerno links brings the total length of Italy's Alta Velocità network to more than 1 000 route-km, stretching from Torino to Salerno. Describing the occasion as 'an Italian miracle', FS Group Chief Executive Mauro Moretti said the high speed line would act as a 'vertical spine' for the country, linking most of the major cities and serving around 65% of the country's population.
Prime Minister Silvio Berlusconi was guest of honour at the event, along with Transport & Infrastructure Minister Altero Matteoli, as well as Moretti and FS Group President Innocenzo Cipolletta. Two Frecciarossa ETR500 trainsets conveying guests from Torino and Salerno met at Milano Centrale station for the formal inauguration.
From December 13 Trenitalia will reshape its high speed service pattern, running frequent 300 km/h Frecciarossa trains on the trunk route, augmented by 280 km/h Frecciaargento Pendolino services to other destinations. Fastest journey times for the Milano – Roma trip which uses 515 km of high speed line has been cut to 2 h 45 min, with most services now below 3 h. The 720 km Milano – Napoli journey will come down to 4 h 10 min, as will the 640 km between Roma and Torino. At peak times Trenitalia says it will be operating high speed trains between Roma and Milano at 15 min intervals.