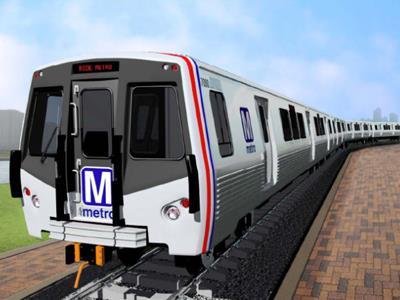 JAPAN: Having been selected as preferred supplier for the next gener­ation of trains on the Washington DC metro, with up to 748 vehicles potentially worth US$1·48bn, Kawasaki has now picked up an order to supply more cars for New York. And Hitachi has set itself the task of doubling exports in the rail sector over the next five years.
They are not alone. Faced with poor sales and declining orders in the domestic market, other Japanese rolling stock manufacturers are looking to expand their export activities.
Both the JR Group companies and the largest private railways have been hit by the recession, with falling traffic and reduced profits taking their toll on investment plans. At the end of April JR Central revealed that Shinkansen revenue in the year to March 31 was down by 8%, the biggest drop in the company's history. Annual profit is expected to be around half of the record ¥159·7bn posted in 2007-08.
Rolling stock production in Japan over the past year is reported to be around 10% lower than 2008-09, which itself was down 7% on the previous year according to the Japan Association of Rolling Stock Industries. And there are reports of sharp price cutting as suppliers fight for the limited number of domestic projects on offer. Whilst their European and Chinese rivals have substantial orderbooks, Japanese suppliers are currently running out of big contracts, and Ministry of Transport figures show that only 94 vehicles were ordered for export in 2008-09.
A key battleground could be North America, where the Japanese are pushing Shinkansen technology for the putative US high speed rail programme. Leading the charge is JR Central's Chairman Yoshiyuki Kasai, promoting the N700-I Bullet (RG 10.09 p33) for both Texas and Florida, whilst Kawasaki can point to its experience with the Series 700T in Taiwan. But as well as European builders, the Japanese face the prospect of competition from Chinese and South Korean firms, with the Chinese already bidding for the privately-promoted Desert Xpress linking Los Angeles and Las Vegas.
Kasai had reportedly been very cautious about exporting Shinkansen trains to China for fear that local firms would copy the technology, a point that he repeated in a recent interview with the Financial Times. Noting that Chinese Railways is running its high speed trains much closer to their design limits than Japanese or European railways would, he suggested that China's high speed rail promoters were not 'paying the same attention to safety as we are'.
Meanwhile, Kasai continues to bang the drum for superconducting maglev technology, and hosted a visit to the Yamanashi test track by US Secretary of Transportation Ray LaHood on May 11. JR Central has offered to build the long-planned 65 km maglev line between Washington and Baltimore, possibly with Japanese funding assistance. But efforts to promote export sales will not be helped by the decision by the JR Central board on April 28 to delay the ¥5000bn Chuo Shinkansen maglev project in the light of the company's poor financial performance. Target opening for the Tokyo – Nagoya route has gone back a further two years from 2025 to 2027, whilst Nagoya – Osaka would not be ready before 2045.