SWITZERLAND: The Lötschberg base tunnel was fully reopened at 17.00 on April 24, after being closed for almost six weeks because of significant water ingress in the eastern bore.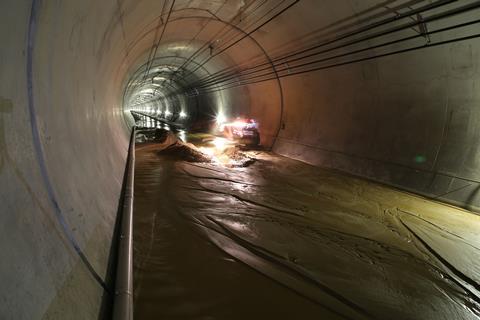 The tunnel initially closed on February 6. One bore was reopened on February 7 and the second on February 20, but further ingress occurred on March 14. The unaffected bore was again reopened the next day. The eastern bore has now been cleaned of water and sand at a reported cost of SFr2·5m.
The affected area is where the tunnel passes through water-permeable limestone. Changes in the water balance inside the mountain cannot be predicted. In order to prevent a reoccurrence in the medium term, operator BLS has installed CCTV-monitored steel settling tanks in the eastern bore and is conducting regular inspections.
Later this year BLS intends to submit designs for proposed long-term measures to control possible water and sand ingress, with larger sedimentation tanks where the water and solid material can be deposited and cleared without affecting rail traffic.
The 34∙6 km Lötschberg base tunnel opened in 2007. It has two bores, but for the 19∙5 km northern section between Ferden and Adelrain only the eastern bore has been fitted out. In mid-2019 parliament approved work to complete and fit-out the second bore in 2022-28.