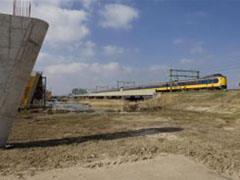 NETHERLANDS: The largest contract to be awarded under the €1bn Hanze Line project was signed by infrastructure manager ProRail and the HanzaRailTeam consortium on May 12. The €164m agreement covers track, 1·5 kV DC electrification, signalling and sound mitigation measures on the 50 km line now under construction between Lelystad and Zwolle.
HanzaRailTeam comprises Volker Rail, Strukton Rail, Alstom and Arcadis. Alstom's share is worth €27m, and includes the supply of an ETCS Level 2 compatible Atlas control and signalling system, as well as Dutch ATB train protection. Alstom has also signed a 15-year signalling maintenance contract.
The consortium will begin installation work in early 2010, with completion planned for the end of 2012. Services are scheduled to start in 2013, with a Lelystad - Zwolle journey time of 30 min, and 15 min cut from Amsterdam - Zwolle journeys.