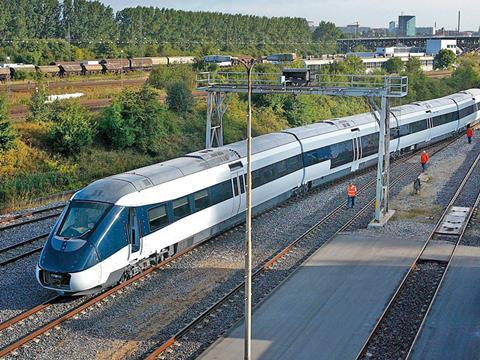 DANISH State Railways ordered a fleet of 83 IC4 diesel multiple-units from AnsaldoBreda in December 2000 at a cost of DKr5bn. Intended to work inter-city services between København and cities in Jutland, the four-car 200 km/h articulated trainsets are notable for their absence from Danish tracks.
Although two trains are being used for preliminary testing, most of the production fleet has yet to leave the factory in Italy. It has long been clear that deliveries were well behind schedule, and DSB expressed concern in August and October that AnsaldoBreda's commitment to deliver the first production trains in time for a planned start of service in January 2006 was untenable.
Dynamic testing had been due to start in August, but was postponed because 'safety tests had shown unsatisfactory results', according to DSB. The problem appears to concern the IC4's automatic train control system and related software.
Matters came to a head in November, when DSB stated that it had received a revised delivery schedule which would see the first trains reach Denmark in April or May this year. DSB announced on November 22 that the Italian builder had agreed to pay DKr250m in compensation to DSB as part of a 'preliminary agreement' to address the problem. DSB CEO Keld Sengeløv said 'we note with satisfaction that money flows from Italy to Denmark, and we see this as AnsaldoBreda's acknowledgement of their responsibility for the [late] delivery'. He added that the Italian company had strengthened its organisation and that top management was better focused on the matter.
Late delivery of the IC4 fleet compounds an already troubled situation for Denmark's railways. In June last year a report on the derailment in February 2004 of an IC3 trainset at Tommerup between Middelfart and Odense blamed neglect of track maintenance for what could have been a disastrous accident - about 1·5m of the rail head sheared off from the web as the train was passing over it. Fortunately there were no casualties, but speed restrictions were quickly imposed across the network.
The accident served to highlight what state-owned infrastructure manager Banedanmark described as 30 years of deferred maintenance, leading to the track being 'in a very poor state'. This has been belatedly acknowledged by the Danish government which on December 15 approved Banedanmark's 2006 budget allocating DKr200m of additional funding for urgent track repairs. This is a small fraction of what is needed, and an assessment of the state of the network currently in hand is expected to lead to heavy expenditure to restore the 2323 route-km network to satisfactory standards.