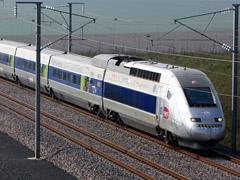 FRANCE: The first contract for civil engineering work on the second phase of the Ligne à Grande Vitesse Est européenne was approved by the board of Réseau Ferré de France on March 18.
Under a package valued at €78·9m, a consortium of Guintoli, Maia Sonnier and NGE GC has been selected for Lot 42, covering 16·8 km of the alignment between Sarraltroff and Danne-et-Quatre-Vents at the eastern end of the Moselle section of the route. The contractors will be responsible for around 9 million m3 of earthmoving and construction of 29 structures. The three companies had previously undertaken similar work on the first phase of LGV Est and LGV Rhin-Rhône. RFF has appointed Inexia and Arcadis to provide project supervision for this section of the route.
RFF President Hubert du Mesnil said the announcement was an important step, which marked 'the real start of operations' for the extension of LGV Est. He added that 'major civil engineering works will begin in the summer of 2010, as RFF had committed'.
The infrastructure manager plans to call tenders for a further nine lots of civil works over the course of the year. The civil engineering is expected to take around three years, and will then be followed by the railway systems works including tracklaying, electrification and signalling installation; in total the project is expected to generate around 6 000 jobs during the construction phase.
Running from Baudrecourt to Vendenheim, the 106 km extension of LGV Est is expected to cut Paris – Strasbourg journey times by a further 30 min from 2 h 20 min to 1 h 50 min, while Luxembourg – Strasbourg will fall from 2 h 10 min to 1 h 25 min. Total cost of Phase II is put at €2 010m, including contributions from the European Union and the Grand Duchy of Luxembourg.