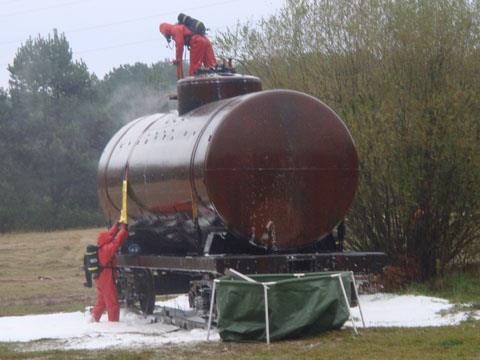 LITHUANIA: Following the signing of a co-operation agreement earlier this year, Lithuanian Railways and the Vilnius Fire & Rescue Service hosted their first emergency training exercise on October 22. Guests included representatives of the Transport & Communications Ministry and the State Railway Inspectorate.
The objective was to improve the practical skills of participants from the railway and fire service, as well as examine the inter-working between organisations in the event of a serious accident.
LG simulated a fire on a train carrying diesel fuel. Fire and rescue crews were called out to join railway staff in tackling the accident, preventing hazardous spills to minimise environmental impact and extinguishing the fire.
LG Chief Executive Stasys Dailydka was satisfied that the exercise had shown that emergencies could be dealt smoothly, emphasising that such accidents are very rare. 'It is essential to invest in safety processes and training, to ensure that we can carry our freight and passengers safely and avoid any harm to the environment', he said. LG's intention is to undertake both practical and theoretical training sessions around four or five times a year.
'Lithuania has sufficient infrastructure to respond adequately to any risks that emerge', said Fire & Rescue Service deputy director Vygandas Kurkulis, who felt the exercise had been valuable in identifying potential hazards or weak points in the procedures. The staff involved had demonstrated excellent training and high skill levels, while equipment, protective measures and other procedures worked well.