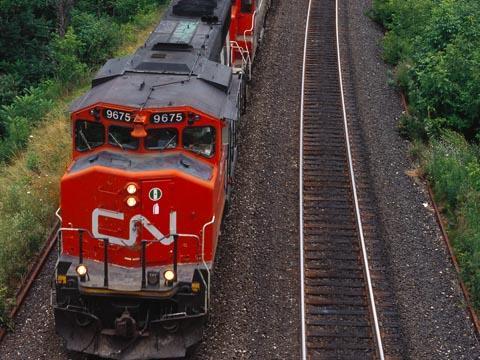 CANADA: Orders for a total of 70 diesel-electric locomotives were announced by Canadian National on October 21.
GE Transportation is to supply 35 ES44DC locomotives of 4 400 hp from the fourth quarter of 2010, while EMD will provide 35 SD70M-2s of 4 350 hp from January 2011.
CN said the orders form part of a locomotive renewal programme which aims to improve fuel efficiency and service reliability. The locomotives will be 15% to 20% more fuel efficient than the ones they will replace, and will be equipped to allow remote control of locomotives distributed throughout a train.
Distributed power capability will offer 'faster, smoother train starts, improved braking and lower pulling forces at the head-end', which along with a siding extension programme will enable CN to run fewer but more efficient trains with better matching of motive power to train weight.